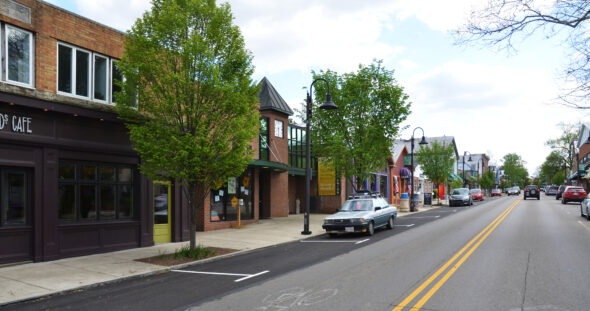 Masks required by law downtown
"Mask on in YS. It's the law."
The electronic traffic signs at the entrances to Yellow Springs displayed a new message this week after Village Council approved a stricter face mask requirement at an emergency virtual Council meeting on Wednesday, July 8.
Council unanimously passed an emergency ordinance mandating facial coverings downtown and on Village-owned properties when physical distancing of six feet is not possible.
Previously, on June 15, Council passed a resolution encouraging masks downtown. But the new ordinance takes the measure a step further by carrying the force of law, with escalating civil penalties if someone does not comply. Villagers and some Council members had been urging Council in recent weeks to pass an enforceable ordinance.
The ordinance identifies three situations in which facial coverings must be worn:
• When inside any indoor public place if physical distancing of six feet is not possible;
• When waiting in line to enter an indoor public space;
• When outdoors in public places when physical distancing is not possible.
Council member Lisa Kreeger, a registered nurse, pushed for Council to take the action at its regular meeting on July 6, saying the pandemic was "not getting better" and Council should move quickly to slow the spread of COVID-19 in the village.
"All you need is one infected person walking around without a mask, and it doesn't matter if you're wearing a mask, you can become infected," she said.
Council member Kevin Stokes also was supportive of the measure on July 6, saying that an ordinance would "simplify things."
But Council President Brian Housh, Vice President Marianne MacQueen and member Laura Curliss were more skeptical of the move, raising concerns in recent weeks about enforcement and arguing that the current marketing efforts and mask giveaways were effective at increasing mask-wearing downtown. However, after Council at an emergency meeting decided to take up the measure on July 8, all members voted for the mask ordinance.
Under the new mask mandate, the first infraction will carry a written warning, followed by a $30 and then a $50 fine. In lieu of penalties, community service may instead be assigned. Village officials, in addition to police officers, can enforce the ordinance.
Exempt from facial coverings are those under age 10, those with a medical or mental health condition, athletes engaged in a sports activity and physically distanced, those riding a bicycle or driving a car through downtown streets, those eating at a restaurant and others.
The ordinance also states that those making a mask-related complaint may not do so anonymously; they have to agree to act as a witness if the matter came before a court.
Village officials clarified that the new ordinance applies to customers inside all businesses in the central business district, but only if they cannot be further than six feet from other people who are not in their group. It also applies to those walking on downtown sidewalks or visiting local municipal parks, when physical distancing is not possible.
Also at the emergency meeting, Council unanimously passed an emergency ordinance requiring all vendors and buskers in the downtown central business district to wear a facial covering, or take other measures to protect the public.
Vendors include those setting up tables on sidewalks and parking lots, as well as food truck operators. The measure also applies to musicians or other performers soliciting donations from the public. For food vendors who cannot wear a mask while cooking, a clear, plastic barrier is required. A series of escalating fines is in place, followed by the revoking of a vendor's permit.
Yellow Springs Police Chief Brian Carlson said on Monday that over the weekend the department received several complaints about a single downtown busker who was not wearing a mask. However, there were not calls about "random people walking around without masks," he said.
Carlson added that the new ordinance will give the YSPD "more tools" to gain mask compliance, but said the department would approach the issue as they do others, in a "resolution-oriented manner" rather than with a heavy hand.
"The point is to create a safer environment for all citizens and people who visit the village," he said at Council's July 6 meeting.
Both ordinances are in effect until the Village's state of emergency is lifted.
In other Council business—
New solicitor sworn in
Breanne Parcels, an attorney with the Springfield firm Gorman, Veskauf, Henson & Wineberg, was sworn in as the new Village solicitor. Parcels replaces Chris Conard of the Dayton firm Coolidge Wall, who served as Village solicitor since 2015.
Parcels, who lives in Springfield, was previously the law director and municipal prosecutor for Urbana and Champaign County, as well as the assistant law director for both Huber Heights and Vandalia. Prior to that she worked for a decade as an award-winning print journalist in Champaign County.
According to her agreement with the Village, Parcels will be paid a monthly retainer of $4,500, with fees not to exceed $54,000 annually. Her contract runs through July 1, 2022.
A request for qualifications for the position describes the solicitor role as "the legal adviser to, and attorney and counsel for," the Village. In addition to attending Council meetings, the solicitor should respond to legal inquiries, suggest updates to local codes, prepare and evaluate legislation and other functions.
In an interview this week, Parcels said that she applied for the Yellow Springs position because she wanted to work for a forward-thinking community with "unique issues to resolve."
"Yellow Springs is a phenomenal community for being on the cutting edge of legal issues that take some other communities time to catch up on," she said.
Parcels, 40, grew up in the Urbana and the Dayton area and graduated from Wright State University and the University of Dayton School of Law. She spent time in Yellow Springs in her youth, hiking in the Glen and attending Camp Clifton in the summers. Her favorite professor at Wright State, she said, was English professor and village resident Jimmy Chesire.
Parcels said her role as solicitor will be to use her experience to educate Council about the legal challenges that its proposals may be met with. From her perspective, she serves the whole community.
"I serve at the pleasure of the Council but I am not serving the Village Council, I'm serving the Village of Yellow Springs," she explained. "I have to balance what's best for the community and what Council asks me to do sometimes."
Citing previous work, Parcels made the point that she is a firm believer in accountability and transparency when it comes to local government. In a 2013 law review publication, "Bring Back the Bite: Restoring Teeth to Ohio's Public Records Law," she crafted a proposal creating an easier and less expensive way to challenge public records requests that are denied. Her proposal was eventually adopted.
"I wanted to make it easier for citizens to access their records, because they are the public's records," Parcels said.
Dog park plan on the table
A plan to create a dog park on Village property is moving ahead.
At Council's July 6 meeting, proponents shared a plan for a local dog park to be built on a 1.25-acre parcel near the water towers at Gaunt Park. The site will be outfitted with fences designating separate areas for large and small dogs, two drinking stations, "dog-friendly benches," signage and more, according to Beth Miller of Wagstown, who appeared virtually at the meeting. The organization consults on dog parks.
In response to a question from the News, Miller said the estimated cost of the project is $55,600 for its first year. No figure was presented for ongoing annual costs, but mowing, waste removal and a port-a-potty are some likely continuing expenses, Miller added.
Funds will be raised from private sources for both upfront and ongoing expenses, she clarified. Miller said ideally a nonprofit would be created to manage the park moving forward.
"There really needs to be a group of citizens or users that are behind the project and are willing to put some volunteer time in to make it a great experience for the humans and the dogs," Miller said.
Council members were supportive of the project.
"I feel this is something that our community has wanted for a long time," Housh said.
The last effort to create a dog park on municipal land came to a halt in 2010 after Council nixed both Ellis Park and Gaunt Park as possible locations.
Close Short Street?
A proposal by Kreeger to close Short Street on the weekends and rename it Freedom Court was included in the July 6 Council packet. Council did not address the proposal but said they would look at it at a future meeting.
Kreeger wrote in her proposal that the name Freedom Court was chosen "in recognition of the rich history of African Americans in Yellow Springs, in support of the anti-racists movement in Yellow Springs and beyond and in recognition that Black lives matter." Kreeger said she came up with the name in collaboration with The 365 Project, which promotes racial equity in the village.
Under the proposal, Short Street would be closed to vehicular traffic and reserved for pedestrians only between 5 p.m. on Friday and 5 p.m. on Sunday each weekend. The street would be outfitted with physically distanced seating, trash bins and a stage and would provide a space for visitors and villagers to gather and eat downtown.
Council's next regular meeting is July 20, to be held virtually on the video conference app Zoom.
Contact: mbachman@ysnews.com