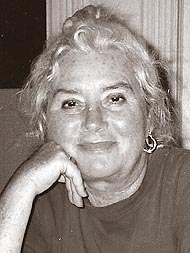 Dorothy Till was born in a Canadian prison in Prince Albert, Saskatchewan, in 1932. Her father ran the prison farm.
Her life spanned eras. In grade school, she rode her horse alone through the snow for miles to school. She recalled the Rural Electrification Program coming through Saskatchewan, providing the first electricity to farms.
At 15, she made her way across Canada alone for seasonal work in canneries and picking berries. One primary lesson from her farm childhood was that she never wanted to depend on the weather to make a living. Grown up, she never did.
In her early 20s, she became a registered nurse and began to create the cultured life that she dreamed of.
As a teenager, she met a farm boy who looked like a young Adonis. He proved to be a whiz at numbers. Supported by her, he acquired a Ph.D. in nuclear engineering by age 25. In the 1960s, they immigrated to the USA. Though the marriage did not survive the year 1971, the joy of her life was the three children and five grandchildren that union produced.
Dorothy Till lived a life of the mind: art, science and culture. In her 40s, she went back to college, earning an MBA. With hard-earned savings, she ventured across the globe many times, visiting five continents. Wherever she traveled, she tried to visit a regular farm. While Dorothy never made a living at her youthful career dreams of writing and fashion designing, she was a prolific artist: writing, poetry, fashion, interior design, painting, hammered copper and ceramic mosaic. She was an expert in turning a house into a home. Wherever Dorothy lived, flower gardens soon blossomed. Her yearly calendars became a staple Christmas gift for family and friends for many years. She devoted much of the last 20 years of her life researching and writing her epic, but never quite complete, book, "The History of Iraq."
At 58, she met and fell in love with the American playwright Rolf Forsberg, a love that lasted until his death in 2017.
For the last 20 years, Dorothy experienced great joy being a grandmother and frequent primary caregiver to her twin granddaughters, Margaret and Eleanor. Equally, she adored her other three grandchildren, living to talk to them and see them, never forgetting a Christmas or birthday.
Dorothy encouraged her family to be neither dependent nor independent, but interdependent. Her fine mind was equally scientific and artistic. Her love was the model of loyalty, but not beyond frank critique. She was practical, forgiving, communicative, laughed and smiled easily, and was as pretty as a 1950s Vogue model. Every single thing she had in life was due solely to two words: hard work. She believed that we survive only in our children, their children, and on down the line.
Dorothy Till died at home in her own bed in Lake Forest, Ill., on Oct. 24, 2020. She died free and owing no debts. Forever, her children and grandchildren will see Dorothy in a thousand things large and small, especially in the flowers she so loved, particularly red hibiscus and yellow forsythia, and in all fierce spirits.
She was preceded in death by her parents and younger brother, Herbie McPhail. She is survived by three loving children, Gopal Till, of Santa Cruz, Calif., Hilary Till (Joe Colligan), of Lake Forest, Ill., and Chris Till (Whitney) of Yellow Springs; five beloved grandchildren, Margaret and Eleanor Colligan, Aluk Till and Malcolm and Ada Elizabeth Dorothy Till; Aluk's mother, Uma Till; her sister, Marilyn Keizer; many nieces, nephews and friends; and her devoted West Highland White Terrier, Winston Till.
Dorothy Till was a golden bird who has now flown beyond the sky.