Richard Kenneth 'Ken' Powers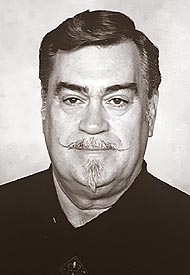 Richard Kenneth Powers died on Nov. 27, 2020, in Beavercreek, Ohio.
Ken was born on Jan. 11, 1940, at home in Deemston Borough in Southwest Pennsylvania — coal country. He grew up in an old house with an outhouse and no running water near Beallsville, Penn. Wash water was collected from a rain barrel and milk cans were filled at a nearby mountain spring for drinking water. He had a pet raccoon that took naps on the pig's back and a pet crow that he taught to talk. He grew up hunting, dancing at sock hops and tinkering on cars.
After high school, Ken was eventually stationed in Wiesbaden, Germany, with the Air Force. There, he met the beautiful redhead who would become his wife, Rita Gratz, in the base dental clinic where they both worked. In 1961 their first daughter, Desiree, was born in Wiesbaden and soon they moved to the States when his tour of duty was up, to live with his family. He then joined the Army and was stationed in Korea for a year while Rita and Desiree spent that time in Rita's hometown of Regensburg, Germany, where their second daughter, Cynthia, was born.
Ken then rejoined the Air Force, which brought the young family to tours of duty in such varied places as Myrtle Beach, S.C.; Anchorage, Alaska; Biloxi, Miss.; and the Upper Peninsula of Michigan. Many of Ken's military years were spent as a mechanic and foreman in vehicle maintenance.
Ken belonged to the World Karting Association and won many trophies racing go-karts in both sprint and enduro classes. His enduro karts sped upward of 90 miles per hour! Ken spent countless hours in his garage, working on engines and whistling along to classic rock stations. Then, after a long day, he would lie on the floor, headphones on, listening to favorite Steppenwolf or Jethro Tull albums with an arm around one of his beloved basset hounds.
After 20 years of military service, Ken decided to settle in Ohio to be near family in Pennsylvania, Ohio and Indiana. Wright-Patterson Air Force Base and the VA made the Dayton area the ideal choice. He attended Sinclair Community College on the GI Bill and got an associate degree in mechanical engineering. He then worked operating Meldahl Locks and Dam on the Ohio River, and later as a civilian machinist for the Test Wing at Wright-Patterson Air Force Base.
Ken spent his retirement years building a house in the country near Casstown, Ohio. He and his wife, Rita, built the two-car garage with a machine shop loft with their own hands, and he built many upgrades on the house himself over the years. They planted 100 trees on the once muddy fields. Ken planted grapes and hops, then took up beer and winemaking. He and Rita enjoyed trips back to Germany to visit. Ken, now an "Opa," was always a help to his grandchildren, to whom he taught things like auto repair and operating a drill press.
Ken often enjoyed visiting daughter Desiree and family in Yellow Springs and was always up for a beer and rock 'n' roll during Street Fair. In his final years, he insisted on mowing Desiree's lawn, after which he'd stop at Ye Olde Trail Tavern for a root beer and a bowl of chili. "Opa" was often a stoic and gruff man, but he would come out in an ice storm to fix a stranded car or help with grandkids in a pinch.
Ken was preceded in death by his parents, Jack Powers and Retta Litton; brother, "Hank" Powers; sister, Celia Powers; and brother-in-law, Thomas Bolin. He is survived by his wife of 59 years, Rita (née Grätz) Powers; daughter, Desiree Powers; daughter, Cynthia Powers; stepson, Eric Grätz (and wife, Joy); sister, Brenda Bolin; grandchildren, Stefanie, Anya, Veronica, Natalie, Hank, Greta, Ben and Michael; great-grandchildren, Cam'ron, Robert, Astra, Iris, Zehra, Cem and Maximilian; and a host of nieces, nephews and extended family.