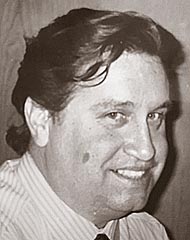 Peter "Kelly" Philips passed away May 30, 2021. Kelly was born in Columbus, Ohio, on Aug. 15, 1957, and several years later moved to Yellow Springs, where he began third grade. He graduated from Yellow Springs High School in 1975 with a wonderful group of lifelong friends.
In 1989, Kelly graduated from Golden Gate University School of Law and enjoyed a long and successful career in California and in Arizona.
Kelly leaves behind his beloved wife, Karin Philips; his stepdaughters, Jaime Scheier and Lindsay Lucas; and his granddaughter, Skyler Scheier. A niece and nephew also remain behind in Atlanta, Ga.
Kelly was a beautiful, happy and loving person who put his whole heart into his 63 years on earth. He will be missed, but he will never be forgotten. His laughter, smile and pure vitality will live on forever in our hearts and in our dreams.