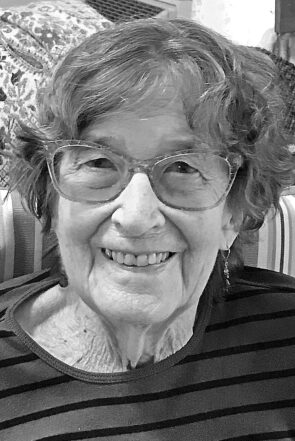 Joy Schweizer (Merry Joyce Baldwin) was born in 1934 in Springfield, Ohio, the daughter of Frances Knox Baldwin and Robert Francis Baldwin, of Yellow Springs. She was the youngest of three siblings, preceded by Betsy and Robert Jr. While attending Miami University, she met Joseph McConnell, a student at Kenyon College. They married in 1956. For the next 10 years they moved — to the Everglades, where Joe worked for the Park Service, to Yosemite National Park, where Joe was a ranger, and eventually to Marin County, Calif., raising their three daughters along the way.
Joy relished the outdoors and the community of naturalists, artists and writers they encountered at Yosemite. Living in a canvas tent house built as the summer residence for park rangers, she cooked on a wood stove and bathed the children in a galvanized tub. Roughing it was right up her alley. In California, they continued to live a bohemian lifestyle among many friends. They enjoyed bottling wine, playing music together and actively engaging in the politics of the era, toting the kids with them to protests against the Vietnam War.
Joy and Joe separated in 1966. Joy then decided to move with her girls to Oaxaca, Mexico, to study weaving. She rented her Lagunitas house to Janis Joplin and Big Brother and the Holding Company to offset her travel expenses. Edward Schweizer, an organic chemistry professor from the University of Delaware who was also traveling to Oaxaca, spotted Joy and her girls sleeping in the airport. Edward spoke to the girls on the plane and then later that night, after traveling to Mexico City, decided to travel back to find Joy in Oaxaca. They fell madly in love and decided to merge their families — her three children and his four — in Newark, Del.
There, Joy helped start a natural foods co-op and a local repertory theater company and ran cooking workshops with a local kids' summer camp. She and Edward built a passive solar house, where she grew lavish ornamental perennials and a full kitchen garden, and which inspired and expressed their deep belief in embracing life, art and generosity. Their door was always open — literally, no locks! — to their seven children, their many grandchildren, a plethora of friends, extended relatives, ex-spouses and neighborhood kids.
Edward died in 2014, and several years later, Joy moved to a retirement community, where within months, her eyesight deteriorated severely. Recently, Joy moved to live with a daughter in Vermont because of COVID restrictions imposed in Delaware. She passed away peacefully on May 16 with three of her daughters nearby. The last words she spoke were, "I need a party hat!" Only Joy would make such a request as she closed her last chapter — gallivanting, truly in style. Forever Joy.