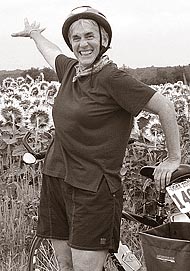 Moya Dale Shea passed away at home on Sept. 7, 2021, with her son, Jason, by her side. She had just turned 76. For the past 18 years, Moya lived deeply and fully, while managing the complications of multiple myeloma and dialysis.
She grew up in Glendale, Calif. and, after graduating from UC Santa Barbara, joined the Peace Corps and served in Tunisia. Upon her return to the States, she moved to Berkeley, where she worked first as a librarian and then for the US Postal Service. When her son, Jason Shea, was born in 1971, she became a devoted mother.
In the winter of 1973, Moya and Jason packed up and moved to Yellow Springs. She immediately decided this is where she wanted to live and raise Jason. Moya worked as a letter carrier until her retirement in 2003. She loved the village and made it her home for the remainder of her life.
She always invited us to imagine the best possible world. As an active and involved member of the Yellow Springs community, she was one of the first in the village to set up a Little Free Library in front of her home. She joined citizen action projects, counting bees, planting pollinator plants and signing up for the new service to collect food waste for garden composting. She offered leadership in several support groups for cancer survivors and the critically ill, including the Charlie Brown Support Group of the YS Senior Center, and she hosted a Qi Gong group in her home for those dealing with cancer and other illnesses.
Moya was a student of what it means to be human. An advocate for social and racial justice was just part of who she was, asserting that there was only one race — the human race. She saw a challenge and responded with curiosity and creativity, gathering information and taking action.
During a medical visit to Little Rock, Ark., she noticed a serious error in the text on the sculpture honoring the Little Rock Nine. It took two years of calm, persistent, dedicated effort to convince the Arkansas Legislature to correct the text to truly honor the Nine. She personally contacted the living members of the Little Rock Nine to let them know of the change. She did not give up; she did not get angry. She just persevered and got it done. Most recently, her concern for racial justice led her to participate in the Courageous Conversations project sponsored by the Yellow Springs Havurah and The 365 Project. She was very instrumental in the "Color of Me" project, which will be launching in October. Her positive impact on the community lives on.
Moya never missed an opportunity to show us her playful side. Her inclusive nature led her to facilitate "New Games," emphasizing cooperation over competition and inclusivity for all. She organized bike rides to the beautiful sunflower fields she loved so much, Bocce tournaments, Frisbee golf, Earth Day celebrations — anything to get everyone moving, laughing and having fun together. If you found a colorful snow sculpture in your yard, you knew Moya had visited. If she watched your child to give you a well-needed break, you might come home to find chocolates on your pillow and silly string to play with. She was always trying new things — stand-up paddle boarding, slacklining and letterboxing, just to name a few.
Moya rode on 10 Great Ohio Bike Adventures (GOBA), stopping off for dialysis along the way. She refused to let her illness control her life. With curiosity and ingenuity, Moya continually transformed not only her thinking, but also her environments: a fire pole she slid down to start her mornings, parachutes draped from the ceiling, sunken beds and her ever-morphing five-year plans strewn across entire walls.
Moya's power came from her immense integrity and her moving and inspiring love of life. To be in Moya's presence was to know you were valued, that she saw the best in you. Her smile was a blessing that she generously shared, her hugs were warm and reassuring. She was grateful for the part she was blessed to play in the lives of Christina Brewer and Matthew Talbert (MacQueen). Her greatest joy in life was, without a doubt, her son Jason.
In addition to her beloved son Jason and his treasured partner, Mindee Akins, Moya will be remembered by her brothers, Brian Shea, and his wife, Deiedre, and Kevin Shea, and his wife, Faye; and her niece, Talia Shea, and her husband, Scott Sweetman. Special friends, who were Moya's chosen family, include Janie Brewer and her daughter, Christina; Pat Dewees; Vickie Hennessy; Wendy Levitch; Marianne MacQueen; Liz Mersky; Jane Visbal; and others too many to mention. We will never forget her smile and the positive impact she had on our lives.
Due to COVID restrictions, a private memorial service is being planned. More information on additional activities to celebrate Moya's life will be forthcoming.
Those wishing to make a contribution in Moya's name may make a donation to The 365 Project. Donations can be made by visiting the website, the365projectys.org, and clicking the "donate" button; or by mailing a check to The 365 Project, P.O. Box 165, Yellow Springs, OH 45387, and placing "In honor of Moya Shea" on the memo line of the check.