2021 Election: Hollister and Pallotta contend for Miami Township Trustee seats
Four Miami Township residents are looking for votes to fill two trustee seats in the upcoming November election. This week, the News features the profiles of one incumbent candidate, Don Hollister, and one non incumbent candidate, Dino Pallotta.
Don Hollister
Lifelong villager Don Hollister is running for re-election to the Miami Township Board of Trustees because he wants to make a difference. Having assumed many roles, he says that he has the experience and the personality to get things done.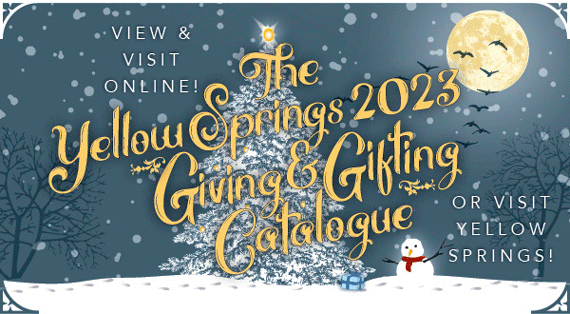 "I first ran for public office in 1973," he said. "I didn't win, but I learned a lot about the process."
Hollister said that his interest in public service came from a job he took shortly after high school, where he served as a cook and companion to Arthur Morgan, who was 93 at the time.
"He told me stories about the history of Yellow Springs," he said. "Those stories and ideals nourished me and led me to question how to counteract rising housing costs in the village."
That led to Hollister's run for Council; he lost, but he was compelled to serve the village in another capacity as a member of Planning Commission. During his tenure, Hollister chaired a task force that came up with a vision for commercial businesses in Yellow Springs that had "one social focus." The result was a small, unified downtown business district.
In 1993, Hollister was elected to Village Council, where he was an advocate for affordable housing, and one of the signers for the incorporation of Home, Inc. After he left Council in 1999, Hollister served as interim director of Glen Helen, an experience that he said gave him "an intimate connection to the land."
Hollister said that even though his Council tenure had ended, he still wanted to be involved in community service. He remained active on local boards and commissions, and joined the Ohio League of Conservation Voters. "I knew I cared about environmental issues, so I started going to meetings."
But it wasn't until 2011 that Hollister understood the role of Township trustees in land stewardship.
"I was barely aware of the trustees," he said.
He decided to run for a trustee position, and after attempts in 2013 and 2015, Hollister won his race in 2017.
"My first term was all about learning," Hollister said.
The three trustees are tasked with caring for the township roads, managing cemeteries, and maintaining Miami Township Fire and Rescue.
"I like to think of it as working by wandering around the township," he said. "We drive the roads to see what needs to be fixed."
Hollister also emphasized the role of the Township trustees in filling in the gaps when tree branches are blocking roads or snow needs to be plowed.
"I've never had to drive a snow plow, but it's on us if our backup drivers are unavailable," he said.
According to Hollister, his communication and listening skills have served him well in this role. He said that he was happy to get Township trustee meetings moved to 5 p.m. on Mondays to avoid time conflicts with other public meetings, including Yellow Springs Village Council.
Hollister has also been the point person for the township in regards to the Kingwood Solar Project.
According to Hollister, the Township opposes the installation of the solar field, and is "arguing for change" that will align the project with Township values.
That is one fight that Hollister said he would like to continue if re-elected. He also wants to keep working as the Township representative on the Yellow Springs Development Corporation, which he says is a "vehicle" for collaboration between area governmental agencies.
Hollister said that he is excited to see a group of candidates for the Township positions.
"I love this town, and I love that there are a lot of people who feel that they can make a difference," he said.
As the only incumbent running, Hollister said he hopes to continue serving his community by providing services: "the things we want to be able to take for granted."
Dino Pallotta
Running a business in a tourist town challenges owners to think creatively in order to come up with solutions that work for everyone. According to Dino Pallotta, owner of Dino's Cappuccinos, it's that experience that will make him an asset if elected as a Miami Township Trustee.
Pallotta hails from Cleveland, where he lived until he left for West Virginia University to study political science and business administration. After graduating, he moved to Columbus to attend law school, but decided to join the workforce after his mother's death. He married Sheila Dunphy in 1991.
Pallotta opened Dino's Cappuccinos in 1998, but didn't move to Yellow Springs until 2012. Once he lived in the village, he "wanted to be a part of building a community," so he started attending Village Council meetings.
"We were planted here, and my political science background made me go in that direction," Pallotta said.
Since then, Pallotta has been active on Village commissions, boards and committees, starting with Community Resources and the Utility Dispute Resolution Board. "It was a good experience, and we were able to listen to both sides and find solutions for people," he said.
Pallotta has also been a part of the Planning Commission, Economic Sustainability Commission, the Board of Zoning Appeals and the Village Manager Search Committee.
"It was a good exercise of working with people who had different goals," he said. "If there were differences of opinion, we had to work through it to find out what was the most beneficial."
Pallotta said that the village manager search experience taught him the skills needed to take on a greater role.
"I learned to work with people within the village," he said. "This wasn't just the village administration. It was a good meeting of the minds."
While this is Pallotta's first time running for Township trustee, he has experience running for office.
He launched a write-in campaign for a Village Council seat in 2019.
"Knowing full well that write-in candidates don't usually win, I said I would do my best," he said.
"Overall, it was a good experience."
This time, Pallotta decided to go through the process of putting his name on the ballot.
"Everything fell into place, so we are giving it a shot," he said.
Looking at his race for Township trustee, Pallotta said that he has a lot of skills that will help the committee anticipate the changes to zoning that will be beneficial for years to come.
"Coming from the business side of it, it's all about working with people," he said. "You've got to be able to work through problems. "
Pallotta also said that he can bring leadership and team-building skills that will help the trustees make good decisions about Miami Township Fire-Rescue personnel changes.
"One of the most important things is getting buy-in and asking your staff what they need," he said.
"If we're all involved and have buy-in, things go smoothly."
As far as other goals, Pallotta wants to support a better relationship between the Village of Yellow Springs and the wider township. He said that he also wants to see equal enforcement of township zoning codes, alluding to the Miami Township Board of Zoning Appeals decision to limit Agraria's use of the barn on their property.
"Agraria is one to go to bat for," he said.
Pallotta said that an additional goal is to expand the approved uses of Township land, specifically land that is privately owned.
In all, Pallotta sees his candidacy as a way to further serve his community and work toward "the betterment of the whole."