Election 2021: Precinct Breakdown
The following is a breakdown of how voters cast their votes in each precinct of Yellow Springs and Miami Township. The Greene County Board of Elections released precinct details on Nov. 17, and votes were certified by the State of Ohio on Nov. 22.
Village Council
Of the seven candidates vying for seats on Yellow Springs Village Council, Kevin Stokes, Brian Housh and Carmen Brown, known locally as Carmen Lee, won seats. Stokes, who will resume his seat with a four-year term, led the race with 1,056 votes, or 22.23%, the highest number. Housh, who received 852 votes, or 17.94%, will serve another four-year term. Newcomer Lee won a two-year term with 745 votes, or 15.68%.
Other contenders were first-time candidates Lindsay Burke, who received 664 votes, and Issa Walker, who received 563 votes; incumbent, Laura Curliss, who received 550 votes; and Scott Osterholm, who received 319 votes.

Lee is a lifelong villager who works as a caregiver for the elderly. In an September interview with the News, Lee said she was compelled to run so she could see someone on Council who looked like her — a Black woman living just above the federal poverty level. Lee's campaign focused on listening to all voices within the community, addressing housing needs by looking at unused buildings, and working to find the balance between being a tourist destination and a community that meets the needs of all villagers.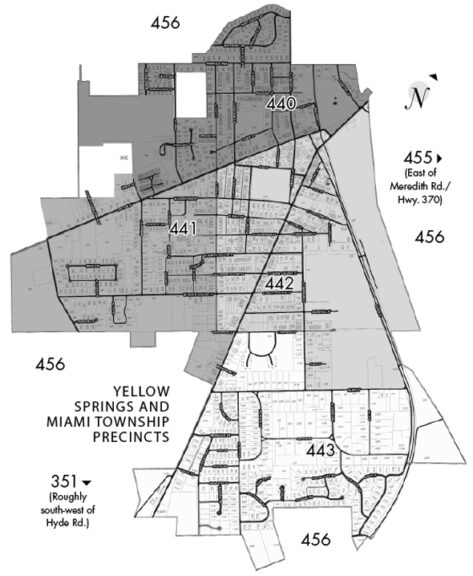 Stokes' campaign focused on the needs for multifamily housing, infrastructure and "smart growth." Stokes works as the senior director of facilities and technology at Antioch College.
Housh, who has served on Village Council for two four-year terms, is the Midwest policy manager for the Rails-to-Trails Conservancy office. His campaign focused on moving the Village forward by ensuring economic growth, developing strategies to increase affordable housing, and continuing to repair and develop infrastructure.
Precinct 440 (north side of town): Brown, 252; Burke, 213; Curliss, 158; Housh, 251; Osterholm, 105; Stokes, 293; Walker, 183
Precinct 441 (western side): Brown, 147; Burke, 130; Curliss, 101; Housh, 170; Osterholm, 64; Stokes, 212; Walker, 112
Precinct 442 (town center): Brown, 162; Burke, 148; Curliss, 115; Housh, 180; Osterholm, 86; Stokes, 201; Walker, 121
Precinct 443 (south side): Brown, 184; Burke, 173; Curliss, 176; Housh, 251; Osterholm, 64; Stokes, 350; Walker, 147
Mayor
Pam Conine won another four-year term as Yellow Springs Mayor in a race with no other contenders. She received 1,443 votes, with the most votes, 440, coming from precinct 440.
Precinct 440: 440
Precinct 441: 281
Precinct 442: 314
Precinct 443: 408
Yellow Springs School Board
The race for a seat on the Yellow Springs school board included five non incumbent candidates. The three winners, Judith Hempfling, Amy Magnus and Dorothée Bouquet, will serve four-year terms. Hempfling received the most votes with 1,199, or 22.5%. Magnus and Bouquet nearly tied, with Magnus receiving 1,094, or 20.5% and Bouquet receiving 1,073, or 20.1%.
Coming in fourth place was Luisa Bieri Rios, who received 1,015 votes, or 19.08%. In fifth place was candidate Pamela Nicodemus, who received 937 votes, or 17.6%. Since the election, Bieri Rios has been tapped to fill the seat of Sylvia Ellison, who resigned from the board after the election.
Hempfling, who served 12 years on Village Council, is a nurse at Miami Valley hospital. Her campaign goals were to create an alternative to building new schools, create more transparency and dialogue between the school board and the community, and support students with diverse needs.
Magnus, a retired Air Force veteran and math and science educator, ran on a platform that supported finding an alternative to costly new buildings. She also focused her campaign on supporting STEM education and addressing learning gaps created by the COVID-19 pandemic.
Bouquet, a senior lecturer at Purdue University, campaigned on a platform that supported building a new K–12 school, increasing transparency between the school board and the community, and improving services for special needs students.
Precinct 351: Bouquet, 0; Hempfling, 3; Magnus, 1; Nicodemus, 1; Bieri Rios, 1
Precinct 440: Bouquet, 253; Hempfling, 334; Magnus, 300; Nicodemus, 229; Bieri Rios, 251
Precinct 441: Bouquet, 195; Hempfling, 205; Magnus, 185; Nicodemus, 158; Bieri Rios, 166
Precinct 442: Bouquet, 201; Hempfling, 234; Magnus, 202; Nicodemus, 164; Bieri Rios, 190
Precinct 443: Bouquet, 280; Hempfling, 266; Magnus, 248; Nicodemus, 253 and Bieri Rios, 275
Precinct 455 (eastern Miami Township): Bouquet, 21; Hempfling, 10; Magnus, 12; Nicodemus, 14; Bieri Rios, 12
Precinct 456 (western Miami Township): Bouquet, 123; Hempfling, 147; Magnus, 146; Nicodemus, 118; Bieri Rios, 120
Yellow Springs school district income tax and bond issue #18
The proposed combined income and property tax was voted down with 821 votes or 38.9%, for the levy and 1,289 votes, or 61.09%, against the levy. The tax would have provided $35.6 million to build a new K–12 school, replacing the current elementary and middle/ high school buildings. While all precincts voted the measure down, precinct 455 had the closest vote, with 14 yes votes and 15 no votes.
Precinct 351: yes, 0; no, 3
Precinct 440: yes, 176; no, 360
Precinct 441: yes, 148; no, 214
Precinct 442: yes, 149; no, 231
Precinct 443: yes, 239; no, 272
Precinct 455: yes, 14; no, 15
Precinct 456: yes, 95; no, 194
Miami Township Trustee
Incumbent Don Hollister and newcomer Marilan Moir won the race for two seats on the Miami Township Board of Trustees. Hollister, a Yellow Springs native and the current Chair of the Miami Township Trustees, received the most votes with 1,136 votes, or 27.8%. Moir, a biology and environmental science teacher in Dayton, has lived in Yellow Springs and Miami Township since 1988. She won the second-most votes with 1045, or 25.7%. Both Hollister and Moir will serve four-year terms.
Other candidates vying for the two seats were Dino Pallotta, who received 847 votes; Denise Swinger, who received 779 votes and Zo Van Eaton-Meister, who dropped out of the race in early October but still recieved 251 votes.
Issues that candidates discussed during the race were agritourism in the township and the future of Miami Township Fire-Rescue whose chief, Colin Altman, will retire in mid-July 2022 after more than 25 with the department.
Precinct 440: Hollister, 284; Moir, 273; Pallotta, 187; Swinger, 180; Van Eaton-Meister, 62
Precinct 441: Hollister, 182; Moir, 161; Pallotta, 131; Swinger, 120; Van Eaton-Meister, 51
Precinct 442: Hollister, 181; Moir, 196; Pallotta, 145; Swinger, 146; Van Eaton-Meister, 38
Precinct 443: Hollister, 242; Moir, 225; Pallotta, 222; Swinger, 177; Van Eaton-Meister, 62
Precinct 455: Hollister, 91; Moir, 65; Pallotta, 52; Swinger, 62; Van Eaton-Meister, 13
Precinct 456: Hollister, 156; Moir, 125; Pallotta, 110; Swinger, 94; Van Eaton-Meister, 25
County Issues 1, 2
Greene County voted down Issue 1, which was a levy that would have increased the sales tax in Greene County by 0.25% to pay for a new Greene County Jail. While the measure was defeated overall, Village voters defeated the measure with 1500 votes, or 83%, against the levy, and 293 votes, or 16.3%, for the levy.
Greene County voters passed Issue 2, which was a five year renewal levy for the construction, reconstruction, repair, resurfacing, or removal of bridges throughout Greene County. The rate for the tax is .25 mills, or $25 for each $100,000 of appraised valuation. Village voters passed the levy with 1474 votes, or 82.11%, for the levy, and 321 votes, or 17.88%, against the levy.
Issue 1
Precinct 440: yes, 85; no, 456
Precinct 441: yes, 56; no, 304
Precinct 442: yes, 62; no, 319
Precinct 443: yes, 90; no, 421
Issue 2
Precinct 440: yes, 444; no, 97
Precinct 441: yes, 276; no, 86
Precinct 442: yes, 322; no, 59
Precinct 443: yes, 432; no, 79
Precinct Issues
Precincts 440 and 443 approved two petitions for alcohol sales at Tuck N Red's and the Yellow Springs Brewery's Barrel Room. The petition for Tuck N Red's, which passed 422 to 117, allows the distillery and winery to sell wine, mixed beverages, and spirits between the hours of 10 a.m. and midnight on Sundays.
The first of the two petitions for the Yellow Springs Brewery Barrel Room allows the business to sell beer, wine, mixed beverages and spirituous liquors. The petition passed 448 to 53. The second of the two petitions allows the business to sell alcohol on Sundays. The petition passed 418 to 83.