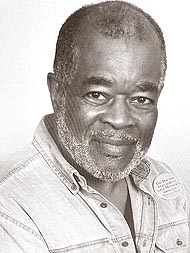 Emmett Abati Doe — aka Emmett Thaddeus Doe Jr. — passed away on Jan. 10, 2022, at the Lyons Place 2, an independent living facility for senior citizens in Dayton, Ohio. He was 80.
Mr. Doe was born on Sept. 27, 1941, in Harlem, N.Y. He grew up in Brownsville, Brooklyn, N.Y., and celebrated his 13th birthday in Munich, Germany. He quit school at the age of 16 to follow varied interests and curiosities until his death. Mr. Doe had an unusually diverse background that allowed him to meet and work with people on a worldwide basis, including civic, community, political, labor and business leaders, for more than 50 years.
He was an avid bicyclist with routine rides at the age of 80! When residing in Houston, he was a member of Tour De Hood and participated often in the Critical Mass Houston bike ride.
In 1953, he embraced a life-changing experience of being in the presence of The Great Dame herself, Ms. Helen Keller, and heard her speak! That extraordinary event occurred at his New York City Public School 175.
In 1963, he joined the Seventh-Day Adventist Church, where he studied the Bible and learned about Christianity, friendship, love and nutrition. Mr. Doe eventually rejected the concept of organized religion to embrace a spiritual journey of generosity, mindfulness and truth.
"Education you pay for, but knowledge and wisdom are free!" he would exclaim.
In 1965, Mr. Doe was drafted into the Army as a conscientious objector. His three years of service in the United States Army included serving as a combat paramedic in Vietnam and subsequently receiving a Purple Heart. Shortly after returning to the States, he found himself in the presence of Dr. Martin Luther King Jr. and heard him deliver a seldom-played address before the National Association of Radio Announcers at their annual convention in Atlanta, Ga. Mr. Doe liked Atlanta and remained, serving out what was a stormy six months that included a summary court-martial that was reported on the National News Report by Chet Huntley and David Brinkley. He was acquitted of all charges and received his official discharge under honorable conditions.
Upon release from the Army, he was immediately employed in the position of a union organizer trainee with Region-Six Department of Organization of the AFL-CIO under the presidency of George Meany. He enjoyed a unique friendship with Maynard Jackson, the first Black mayor of Atlanta. He knew Congressman John Lewis, Julian Bond, Bill McKinney — the father of freedom fighter and Congresswoman Cynthia McKinney — and Congresswoman Yvonne Braithwaite Burke.
He worked for AFSCME's William "Bill" Lucy as an organizer in Chapel Hill, where he met with City Manager Bill Britt, who in a few years became one of the top producers and leaders in the world of AMWAY, founded by Jay Van Andel and Richard DeVos. He got to know John H. Winters of Raleigh, N.C., the first Black city councilman and multimillionaire state senator. Mr. Doe worked briefly for Congressman Ron Paul, as special consultant to the candidate, and then president of Local 260 of the Transport Workers Union, the late Davis Carrington. He worked with the leaders of the Black Longshoremen's Union in Houston, Texas, and with "Operation Breadbasket" Pluria Marshall Sr. In 1969, he was a candidate for the Atlanta City Board of Aldermen. Shortly thereafter, he became a licensed private pilot.
In 1974, Mr. Doe became the first animal shelter director, white or Black, for the city of Beauford, S.C.
Mr. Doe was a long time live radio talk show host, commentator and print journalist/freedom fighter. Dedicated to the freedom and liberation of PMIAs — the "people made in America," a term he coined — the direct descendants of those captured and enslaved prisoners of irregular warfare that they euphemistically called "slaves." Mr. Doe said, "It is my intention to build a culture, an understanding, a collective solution to this on-growing historical dilemma by providing a catalog of honest and truthful information that includes audio and video programs that seek to heal and educate our people and the world."
In 1971, he was invited to host a radio talk show and later hosted other live talk shows at several stations in the Houston market. He served as news and public affairs director at Texas Southern University's KTSU FM. In recent years, he hosted and produced live talk shows on KFCC AM, KYOK AM, and KPFT 90.1 FM. His "Really Quitting America" commentaries debuted on WBAI Pacifica Radio in New York City.
Mr. Doe is known for tackling difficult subjects and issues, such as The Atlanta Child Murders, frame-up of Wayne Williams, Western imperialism, male-bashing, "The Aids Hoax," infant circumcision and the miseducation of the "people made in America." Since the 1970s, his commentaries have appeared in print in a number of publications. He produced several programs that aired on Dayton Public Access Television (DATV).
In 1979, Mr. Doe became a member of the Black Republican Men's Club, meeting with William Perry "Bill" Clements Jr., the governor of Texas. He researched and authored the 1979 Doe and Associates' "Metropolitan Transit Authority Community Impact Report (Houston)," an examination of the potential impact of what became METRO on inner-city residents. The report was commissioned by Mario Silver, executive director of The Gulf Coast Community Services Association — the only study today done and paid for by the people affected the most by public transportation: Black communities.
Mr. Doe won the Atlanta Inventors Exposition with a commercial catfish farm feeder. He worked with inventors and helped them market their inventions and seek funding and development resources. He is the creator and author of the 1992 "Community Economic Development Plan," a solution to the economic dilemma of the Afro-American community. He and the late Ben Thomas, Ph.D., a board-certified pathologist toxicologist, worked together on various business development projects for over 16 years, including Trinity Water Oil & Gas, where he served as president and vice president of Renova Water Processes, LLC.
In 2004, Mr. Doe founded Stork Reality, which was "conceived as an expression of a profound acknowledgment of the act of birth to the mothers of my children and grandchildren. The father, mother and birthchild are co-equals in the ongoing celebration of life. … Because the day you were born is your mother's birth day. Honor her!" That same year, he traveled to Accra, Ghana, with a close acquaintance, Mr. Quincy Sintim Aboagye, owner and operator of the only offshore producing wells in Ghana. Mr. Aboagye is CEO of Lushann International Energy and Saltpond Offshore Producing Company Limited.
Mr. Doe was a mentor to young boys and a number of grown men and women. He was past president and co-founder of the Men's Council of The Houston Area, an organization for men that had up to 900 European/male professionals and upper-middle-class men. He is an Initiated-Man with a New Warrior graduation date of February 1992. He is credited with co-founding AAFANTE — African Americans Forming A New Tribal Existence — and "Inward Journey African American Council Underground Railroad Training Odyssey Experience," based in Memphis, Tenn. He counted among the men he respects Robert Bly, Michael Mead, Dr. James Hillman, John Henrik Clarke, Ph.D., the late Amos Wilson, PhD., Morris Taggart, Ph.D., and Dr. J. Dennis Jackson, his personal teacher and freedom fighter and the author of The Black Commandos. His attorney, O. J. Lawal, was a friend and is a leader of Nigerian Businessmen and Entrepreneurs. Lastly, his most trusted, proven and tried friend was Samuel Kiteka.
Mr. Doe's cutting-edge, insightful and visionary commentaries and videos can be experienced at OnTheRealSide.com and on YouTube; numerous important statements and documents from Mr. Doe can be found there.
He is survived by his four children, Chaka Dubois Doe, Rashida Doe Mackenzie, Hashim Ohaji Doe, and Ayanna Doe; grandchildren, Briele Doe, Sarhaan Cox, Devin Amaru Doe, Reaghan AnnMarie Doe and Thomas Elijah Doe; great-grandson, King Doe; sisters, Novella Doe Smith Arnold and Carol Doe Porter; and his former wife, Patricia Ann Doe, of Houston, Texas.
He was preceded in death by his parents, Emmett Doe Sr. and Lula Wells Doe.
Mr. Doe was a brilliant and generous soul who lived by this simple, yet profound truth: "Become the change you wish to see in others!" He will be deeply missed by us, his creative business associates, mentees and many other relatives and friends, including his dear friend, Yvonne Seon, of Yellow Springs.