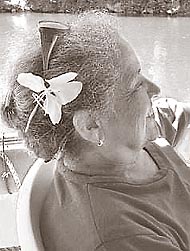 JoAnn Rae deArmas Wallace, 1943–2022, was a breath of life and exuded energy wherever she went. Born in Buffalo, N.Y., to Jose Ramon deArmas and Ana Dolores Gonzalez, she traveled widely and was a beloved citizen of the world before making her departure on Jan. 31, 2022, in Elizabethtown, Pa.
JoAnn met the love of her life, Ed Wallace, at Syracuse University, where she was studying international relations. While living in Rochester, N.Y., the Wallaces added to their family by welcoming a daughter, Kaye, in 1966. Three years later, they were living in Ludlow, Mass., where their son, Ramón, joined the family. The children were the center of JoAnn's life.
Once Kaye and Ramón were in elementary school, JoAnn returned to school for her master's degree in counseling. She worked as a teaching assistant for statistics, where she ran a lot of punch cards through the room-sized computer.
JoAnn then became director of admissions and director of international study for Antioch College. She established the study abroad programs. After her kids had moved on to adulthood, JoAnn became dean of international programs at Juniata College. She was a leader in the Pennsylvania chapter of Partners in the Americas, a presenter at conferences in international education and recognized as an expert in her field.
When JoAnn retired from Juniata, she and her husband moved to Hershey, Pa., to be near their daughter and her family. In Hershey, she again built communities. She made things grow — people, gardens, everything she got involved with grew because of her touch. Just about everyone she knew has been gifted at some point with an enormous zucchino rampicante — Italian climbing zucchini — from her garden, or at least eaten her chocolate zucchini bread.
JoAnn, your light in this world will be missed. We will continue to spread the light you gave us and live your example.