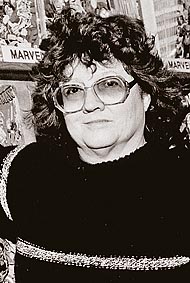 Mary Alice Wilson, 89, passed away peacefully on Jan. 31, 2022, at Glen Forest Health Campus in Springfield, Ohio.
Mary was born Nov. 1, 1932, to Mary Louise (Boring) and Frederick Wright, of Nashville, Tenn. She attended Vanderbilt University, eventually earning a bachelor's and two master's degrees. It was at Vanderbilt that she met her future husband, Eric Wilson. Eric eventually accepted a teaching position at Wittenberg University, and he and Mary Alice moved to Yellow Springs in the '60s. She absolutely loved YS and the people she met there.
In the '70s, Mary Alice taught remedial reading classes at Central State University. There, she used comic books to get students excited about reading — much to the dismay of the administration. She started frequenting flea markets in search of comics and eventually started selling them at comic book conventions.
In 1982, Mary Alice opened Dark Star Books and Comics. The store was her heart and soul. Her great calling was inspiring a love of reading in others, and the store allowed her to reach many people. Over the years she hired many local young people and loved mentoring them. At Dark Star, she was known fondly by her initials, MAW.
In the '80s and '90s, she was one of a very few female comic store owners and was often sought out by the publishers and distributors of comics for her unique perspective. She attended many industry events and conventions. Locals still remember the time Mr. T came to Dark Star and signed copies of his new comic book. She was also active with the Yellow Springs Chamber of Commerce and was always advocating for downtown improvements.
Mary Alice was 79 when her daughter, Kate, came to help with the store, allowing Mary Alice to enjoy semi-retirement, though she still was very involved with the business. In her 80s, she went out less, as walking became increasingly difficult, but she was very active online — emailing friends and family, promoting social causes and continuing to advocate for Yellow Springs businesses. And she was always ready to recommend books and TV shows she was enjoying.
She is survived by her companion of 40 years, Gary Deidreich; brother, Fred Wright, of St. Petersburg, Fla.; son, Rick (Laura) Wilson, of Pleasanton, Calif.; daughter, Kate Mooneyham; and grandchildren, Eric and Ellen Wilson and Holly, Erin and Ben Mooneyham.
She will be interred in the new green burial section of Glen Forest Cemetery. A celebration of life is planned for a later date.
In lieu of flowers, please consider a donation to WYSO.