McDonalds purchase Ha Ha Pizza
No, not that McDonald's.
These McDonalds — that is, Karen and Megan McDonald — officially closed on the purchase of Ha Ha Pizza on June 21. The mother-daughter pair, who hail from Fairborn and Enon, bought the restaurant from longtime owner and operator B.J. Walters, who has been with the local pizza parlor for the last 25 years.
The McDonalds told the News last week, contrary to what their last name may suggest, fans of the pizzeria won't see a pair of golden arches, but instead, business as usual: classic pizza pies served up Ha Ha's way.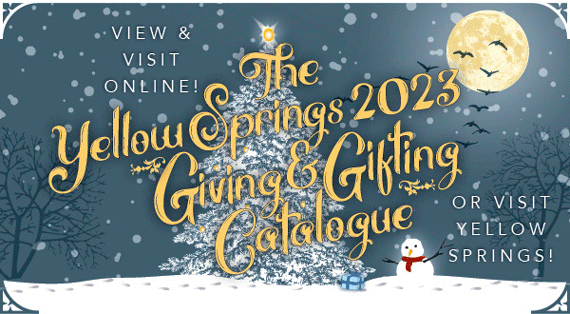 "We want to preserve and respect the history of the restaurant, while also writing our own chapter," the 28-year-old daughter, Megan McDonald, said. "So, don't fret, everybody, we're not taking anything away."
That includes the name, the famously secret recipes, the eclectic ingredients, the salad bar, location, signage, aesthetics and even the seven employees who stuck with Walters until the very end — all these will remain under the new owners.
Some changes, however, are on the horizon.
The McDonalds said they plan to expand Ha Ha's hours once they hire additional staff. The eventual plan is to sling pizzas until 10 or 10:30 p.m. some nights — which would make the restaurant the latest available food option in Yellow Springs. But for now, the hours remain the same: Wednesday and Thursday, 4–8 p.m., and Friday–Sunday, noon–8 p.m.
Additionally, the McDonalds said they're reviving some crowd favorites.
"Calzones and subs are coming back," Karen McDonald said proudly.
The pair also hopes to "bring the restaurant into the 21st century" by integrating and relying more heavily on technology. The younger McDonald said they want to create a more prominent online presence and to market upcoming specials on social media. The in-house gadgets may also soon be updated.
"Right now, you can't use the dinosaur of a card reader at the same time as taking a phone call," Karen McDonald said. "And that's a problem."
Both mother and daughter said the past three weeks have been a whirlwind. They strapped on their aprons and got to work the day after the purchase.
"The first day was pretty busy," Karen McDonald said. "But it was also so much fun. We were happy that people were coming in to meet us. That's why we're glad to be here: this is such a welcoming community."
In those first days, the McDonalds got a crash course in all things Ha Ha's. Walters and his team of employees taught the pair how to make the doughs, mix the sauce and, generally, how to keep up with the busy lunch rush — the kind of business typical for a sunny day in Yellow Springs.
"We got right into it," Karen McDonald said. "We watched the kids doing their thing. They're all awesome and quick at their jobs. In fact, they taught us how to make our first Ha Ha pizza."
Despite all the newness of making pizza in Yellow Springs, the McDonalds are not without food industry experience. Megan spent a number of years in her early adult life working in area restaurants, such as Applebee's and, as fate would have it, McDonald's. Karen spent over seven years leading a team of pastry cooks in the Englewood Meijer bakery.
Most recently, the duo took their culinary prowess on the road. For several years, the two owned and operated a dessert-themed food truck they called "Cookie Mayhem."
"Cookie Mayhem was going well, but eventually we wanted to move away from the seasonal work of running a food truck to something more concrete — something like a year-round brick-and-mortar," Megan McDonald said.
So, in 2019, the McDonalds sold their truck, saved up some money and began looking for the restaurant of their dreams.
"When Ha Ha's came along, we knew it was meant to be," the daughter said.
In addition to operating Ha Ha Pizza, both mother and daughter continue to work at their other full-time jobs: Megan works for the Clark County Sheriff's Office as a third-shift dispatcher, and Karen is an agent for Mike Baker State Farm in Fairborn. They each said they hope to eventually phase out their full-time jobs to focus exclusively on running the restaurant.
Cooking, after all, is their lifelong passion.
As Walters told the News in a separate interview, it was the McDonalds' love for all things edible, their experience and their preparedness that sealed the deal for him.
"They showed me they really knew how to run a restaurant," Walters said. "They were pre-approved and had a cash offer, they were nice people who I thought the community could get behind and they had experience. It was that trifecta."
The McDonalds and Walters declined to disclose the sale price, with the younger McDonald simply stating, "It was a fair dollar amount."
Walters said the McDonalds purchased "everything but the building," which is owned by Bob Baldwin.
"That includes everything you see inside, all the equipment and all the assets," Walters said. "They got the value of the business, the recipes and how to prepare everything."
Chief among those assets is the fabled "little black book" of recipes that has been safely guarded and passed down since the restaurant was born in 1975.
"When I first opened the black book, I couldn't believe how much was in it! The first thing we flipped to was the sauce and the dough," Megan McDonald said.
Her mother added: "There were quite a few surprises that we didn't expect to be in there. We were both like, 'Oh! That's why the crust tastes so good!'"
While staying true to Ha Ha's recipes, the McDonalds aim to put their personal culinary spin on their pizzas, combining fruits, unusual vegetables and meats for people who "just want to try something new." Megan McDonald floated the possibility of topping a pizza with ricotta cheese, prosciutto and fresh peaches.
"We both like to change it up," Karen McDonald said. "There are just so many ingredients back there."
Right now, the kitchen is stocked with 34 different toppings — and counting.
They also said they hope to work closely with area farmers and suppliers to incorporate the freshest possible produce in the salad bar and on their pizzas. Most recently, Michael Anes, of Yellow Springs Experimental Farm, dropped off a heaping batch of cucumbers and cabbage.
"Really, we hope to have more community involvement," Megan McDonald said.
The McDonalds said they're grateful for the opportunity to carry on the "legend" of Ha Ha Pizza and are excited for what the future holds. The success of the last three weeks, amid the summer rush, has proven to them they made the right decision.
"I think it's exciting to be a part of something bigger than ourselves," the younger McDonald said. "Ha Ha has been here so long, and don't worry — it's here to stay."
The end of an era
Walters, 46, has wanted to sell Ha Ha Pizza for several years.
That's no small decision for someone who's worked there for a quarter of a century. Walters began at Ha Ha as a dishwasher in 1997. Eight years and many pizzas later, he purchased the parlor from Larry Lookabaugh in 2005.
"I feel like for the last 25 years, I was Ha Ha's, and Ha Ha's was me," Walters said. "In that time, I think I've played a major part in [the restaurant's] legacy; I gave it an identity. I've been there longer than half its existence."
Walters described himself not so much as Ha Ha's "daddy," but more like "the great-uncle that helped raise it."
Eventually, Walters grew tired of the regular challenges that come with running a busy restaurant in downtown Yellow Springs — he wanted to slow down. He put a "for sale" sign in the restaurant's front window in fall 2019, but no change of hands had occurred by March 2020, when the COVID-19 pandemic lockdown hit. Walters re-evaluated his sale plans.
"Had I kept trying to sell it then, I don't think it'd still be open today," he said.
However, with the bad came some good: Walters said that the conditions in the early days of the pandemic eased some of the stress of running the restaurant.
"Business hours were cut way back, and so were the expectations from customers," he said. "We became a smaller business that was a lot easier to run. Sure, we got less in profits, but really, I didn't mind."
Walters bided his time and waited until his annual sales went back up so he could again try to sell Ha Ha for what he believed it was worth.
"When I shrunk things up, I stabilized the business so it was still profitable, even without the government subsidies," he said. "That provided me the value of the business, which is what I sold it for."
On Memorial Day weekend this year, Walters met the McDonalds. The rest is history.
"It happened like that," Walters said with the snap of a finger. "They hit the ground running. Sure, I had higher offers, but I felt like [the McDonalds] were the most prepared and would be the most successful in carrying it on."
Walters said he was careful to choose his successors. Above wanting enterprising restaurateurs, he sought someone — or someones — who'd treat the 47-year-long legacy with the same veneration he did.
"If Yellow Springs were a pizza, [Ha Ha] would be one of the main constituents," Walters said. "It's the crust, the sauce or the cheese — kind of in the same way Antioch is. It's a part of the structure of the village."
Walters has high hopes for the McDonalds' time at the helm of his beloved Ha Ha.
"I hope they expand!" he said enthusiastically. "I could see it becoming a franchise. I'd love to see some more Ha Ha Pizzas out in the world."
Although his time at Ha Ha came to a close, Walters didn't go far. Nowadays, he's working next door at Peach's Grill, hosting, waiting tables and getting back to what he said motivated him to get into the food business in the first place: "serving people something good."
Now, with his added free time, Walters hopes to spend more time with his two sons and wife, Victoria — whom he met while he was working at Ha Ha as an employee nearly two decades ago.
To the village at large, Walters offered his heartfelt gratitude:
"I raised my family here because of you," he said tearfully. "Thanks for the support all these years."