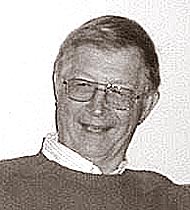 Sept. 3, 1936–Nov. 17, 2022
Robert Dan "Bob" Dixon, died peacefully in his sleep, at his home in Hot Springs, North Carolina, on Thursday, Nov. 17.
Bob was born Sept. 3, 1936, near Englewood, Ohio, to John Clarence Dixon and Helen Beatrice (Stefanak) Dixon. His father was a tenant farmer, having lost his dairy farm during the Depression, and they lived in a house without electric or indoor plumbing. As a child, Bob was recognized as very gifted at mathematics, if not a prodigy. According to his sister, by the age of 5 he was playing for money in adult euchre tournaments. He graduated from Randolph Township High School, now Northmont High School, in 1953, a three-year graduate, and at the age of 16 he started a five-year co-op program at the General Motors Institute. He continued there for four years, receiving an engineering certificate, but transferred to OSU for his fifth year, and received his BS in mathematics. Bob continued at Ohio State to complete a master's and ultimately a doctorate in mathematics in 1962. During his education, he met and married the love of his life, Carol Ellen Parkison.
After completing his graduate studies, Bob was an assistant professor of mathematics at the University of Illinois, Champaign-Urbana. He was there briefly. In 1964, Ohio State opened a new branch campus, partnering with Miami (Oxford), which later became Wright State University, in Fairborn, Ohio. Bob was hired as the first mathematics coordinator/chair for this new "branch" campus. According to Bob, he was the third person with a contract, and the first person on the "campus" grounds — "holes in the ground" for Allyn Hall, the first permanent structure. Bob was tasked with hiring the entire mathematics faculty — five additional mathematicians — for that first year, 1964. One of his first hires was Alphonso Smith, who became and remains a villager, with whom he'd been a graduate student at OSU. Al was having trouble locating housing near campus, finding that the listings he had called about had become "unavailable" when he arrived to see them. Bob went out on his own and discovered that they had become available again! Someone told Al that he should check in Yellow Springs. The Smiths moved to Yellow Springs, where Al remains, and the following year, 1965, the Dixons moved to Yellow Springs.
In 1973, with WPAFB looking to hire graduates with skills in computers, Bob participated in the formation of the department of Computer Science and Engineering at WSU, and was, for a time, chair of both the Math and Computer Science departments. He eventually moved to only the CS department, where he was chair twice again, in the early '80s, and mid-'90s, after a brief retirement. Bob was also president of the WSU faculty in 1986. During Antioch's financial troubles in the '70s, when there was a shortage of faculty for scheduled classes, Bob taught introductory FORTRAN programming at Antioch (gratis). Even though his job was generally a nine-month job, Bob worked every summer, and always seemed to have "business" or "a meeting" in Washington, D.C. Bob did confess, a few years ago, that he had an office at the NSA, although he denied he was a member.
Always kind, and endlessly generous, Bob was always working to make life better for family, friends and community. In 1969, with T-Ball being the new thing, four local men — Bob, Hank Chapin, Jonas Bender and Joe Yasutake — formed The Perry T-ball League. The first year it was called the Minor League, but in 1970 it was renamed the Perry League in honor of local and recently deceased youth league organizer Don Perry. At that time, baseball was not co-ed, anywhere. According to Bob, local resident Teresa (Bondurant) Wagner was such a good athlete and so much better than most of the boys that they felt they couldn't reasonably keep her, or any girls, from playing, and Perry League T-ball was co-ed from the start.
In the late '90s, Bob and Carol relocated to Hot Springs, North Carolina — a town of about 700 in rural Appalachia. Once there, Bob took on local needs again, with passion. At a meeting regarding the local library, notice was given that, if conditions didn't change, the Hot Springs library would be closed the following year. Bob inquired as to the exact reason for the decision. The number of books being checked out was not sufficient to justify the library — "Numbers don't lie," he was told. In a contest with Bob, if numbers were involved, Bob rarely lost. Bob set alarms on his computer and one-by-one notified the residents of Hot Springs, by email and by phone, that it was their day to check out a book. At the end of the year, instead of indicating a closure, the library usage justified increased funds. Since then, the library has moved and expanded. Largely on his own, Bob negotiated a contract for a new library building, rebuilt it, including floors, lights, wiring for power and network, and all the bookshelves, and moved the books in his pickup truck from the old library to the new one.
The local elementary school for Hot Springs had the worst math testing performance in the county. Bob took over as a special math tutor and teacher's aide for the fourth and fifth grades. After two years, when he'd worked with all the students then in those grades, the school had the best math testing performance in the county — worst to first in two years. Among elementary schools in North Carolina, their math score was in the 92nd percentile.
After the death of his beloved wife, Carol, in 2017, with his memory slowly fading, Bob fully retired to the farm where he lived. Still insisting on "being of use," he mowed, weeded berry patches and helped on the farm, until he finally went home to see Carol. He is no longer missing her.
Bob and Carol are survived by their three children, Dan Dixon (Sherryl Kostic), of Yellow Springs; Peter Dixon (Mary), of Hot Springs, North Carolina; and Ellen Dixon, of Half-Moon Bay, California; five grandchildren, Elizabeth Dixon (Mike), Olivia Dixon; Josey Dixon (Gio), Eliot Dixon and Elise Harding; three great-grandchildren, Jude Robert, Colin and Simon; and many nieces and nephews.
Bob was preceded in death by all of his siblings: Rosetta "Sis" Cooney, John "Ed" Dixon, Andrew "Don" Dixon and Dorothy "Dede" Sullivan; and his nephew James "Jim" Cooney.
A memorial service will be held on Saturday, Dec. 3, 2022, at Jackson Lytle and Lewis Funeral Home in Yellow Springs. There will be a visitation from 1–3 p.m., with the service starting at 3. Afterwards, friends and family can gather at a local eatery, TBD, to talk and eat.