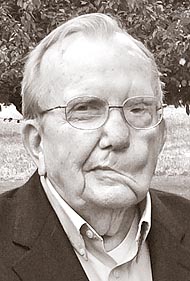 On March 6, Robert A. Darrow, "Bob," died peacefully at home under Ohio's Hospice care. Bob was born in Syracuse, New York, to Frank and Elma Darrow. He graduated valedictorian of his Solvay High School class, received his undergraduate degree from Amherst College and his Ph.D. from Johns Hopkins University.
Following an assignment at the National Institutes of Health in the Coast Guard, he took a postdoctoral position at the Medical Research Council's laboratory in London, Mill Hill, where he met his future wife, Ruth. Bob spent five years at Harvard University, in Dr. Herman Kalkar's laboratory at Massachusetts General Hospital, in Boston, as part of the university's faculty. While in Boston his two daughters, Jessica and Claudia, were born; his son, John, was born after he joined the Kettering Research Laboratory in Yellow Springs. Bob spent a short time at Battelle's facility in Columbus before joining the staff in the Department of Biochemistry at Wright State University, with Dr. Daniel Organisciak. On his retirement, Bob decided to expand the other side of his brain, returning to the classroom at WSU and gaining his master's degree in the humanities, an achievement of which he was especially proud.
Besides science, Bob was passionate about music and the arts, playing trumpet in high school and French horn in college. He loved opera, chamber and orchestral music and theater. He read voraciously, loved The NY Times crossword puzzles — never using a pencil, always a pen — but his greatest love was for his family.
Bob was preceded in death by his parents and his younger brother, Frank. He leaves behind to cherish his memory his wife of 60 years, Ruth; his sister-in-law, Cathy Darrow; children, Jessica Darrow, Claudia (Scott) Davis and John (Megan) Darrow; grandchildren, Kristen (Jordan) White, Arthur (Isaiah) Davis and Jason Davis and Olivia, Kaitlin and John Darrow Jr.; and nieces, cousins and friends. No service will be held, but a gathering at a later date is planned. If desired, donations can be made in Bob's name to the Chamber Music in Yellow Springs organization or to the Glen Helen Association.