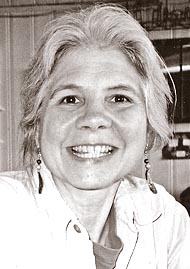 Susan Streeter Carpenter, a Yellow Springs novelist, poet, activist, teacher, spouse, sister, mother and a friend to many, has died at the age of 75 after seven years with Alzheimer's disease.
In the introduction to a collection of essays she published in 1987, Susan wrote:
"In eighth grade general science I heard about the tree falling in the forest which makes no sound if no one is there to hear it; I thought it a terribly sad story. It probably was the beginning of my wish to have a column — a 'sounding board' is as good a term as any — of my own. When I crash to the forest floor, I intend to have made a noise."
The noise she made was prolific, compassionate and bold: a deeply honest exploration of human relationships celebrated through writing, reading and teaching the joys of literature.
Over her lifetime, Susan was an anti-poverty worker, home health care administrator, independent radio producer, freelance writer and teacher of writing. Her syndicated column. "On the Edge of Town," published in the Yellow Springs News from 1987–1990, is remembered fondly by many. She went on to publish dozens of poems and short stories and an historical novel, "Riders on the Storm," about student activists in the late 1960s in Cleveland. When she retired from teaching in 2016, she had much more writing planned.
After graduating from Case Western Reserve University, Susan met her lifetime partner, Berch Carpenter, in 1969 while on a co-op in Philadelphia for a master's degree in teaching from Antioch College. She taught for a year in a California high school, but decided to return to Yellow Springs and marry Berch. She worked for various social causes and became mother to Chad and Laura. She returned to writing and adjunct teaching at the college level in the late '80s. In 2005 she was awarded her Ph.D. in English and comparative literature at the University of Cincinnati. Over her teaching career of 40 years, she taught at Antioch, Wright State, Sinclair, Wittenberg, and as a tenured professor at Bluffton University before she retired in 2016.
Along with her Yellow Springs News column, Susan produced, directed and hosted "The Bookshelf," a weekly radio show on WYSO. She read her poetry for Women's Voices Out Loud, sang with the World House Choir and directed the Antioch Writer's Workshop for many years. She was a dedicated member of writers' groups in Yellow Springs, the greater Ohio area and in Scotland, where the Carpenters lived for a short time.
Her fiction has received numerous awards, she published short stories in journals such as The Long Story, The Beloit Fiction Journal, Snake Nation Review, Kalliope, Crab Orchard Review and Best of the West '09. Susan received an Ohio Arts Council Fellowship, a Pushcart Prize nomination and two first-place Westheimer awards from the University of Cincinnati, as well as a Distinguished Dissertation Fellowship in the Humanities for an early version of her novel.
Susan believed that sharing stories can reveal truths and build better communities. Whether campaigning for a political candidate, building lifelong friendships in writing groups or chatting with strangers on the street, Susan engaged people, passionately and with an open, curious heart. She loved to talk about big ideas, and about her own and others' intense feelings and convictions. But she was opposed to dogmatism and polarization. When an interviewer asked her, "Why did you write a novel about the 1960s rather than a memoir?" she replied, in part, "A memoir about my life in 1968 would basically have only one narrator. I needed to construct a story with more than one voice, from several points of view. … The result was a kind of tapestry with characters coming to the fore and then fading back for a while. … That tapestry effect (rather than linear narrative with one narrator) reflects, I think now, my continued preference for participatory democracy."
Along with Berch, Susan raised two wonderful children who share her commitment to family and humanity, who believe, as she did, in living life to the fullest, and who have brought her creative spirit into their respective professions of architecture (Chad) and the visual arts (Laura). She will be dearly missed by her loving husband of 50 years, Berch Carpenter; her sister, Barbara Streeter; brothers Tom and Martin Streeter; and her son, Chad Carpenter (Kara), and daughter, Laura Truitt (Justin); as well as three grandchildren, Desmond and Madeline Truitt and Helen Carpenter.
A memorial to celebrate Susan's life is planned on Saturday, May 20, at the Vernet Ecological Center in Glen Helen, at 2 p.m. Gathering friends and family are encouraged to bring remembrances of her to share during the memorial, and all are invited to a reception at 1700 Spillan Road, Yellow Springs, following the memorial. If you are so moved, donations in her name could be sent to The 365 Project Citizens Action Reparations Fund, the365projectys.org, or the YS Equity Fund, ysequity.org.