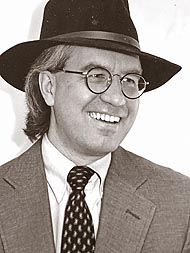 Jon Howard Saari, longtime Yellow Springs resident and Antioch University professor emeritus, passed away on April 12, 2023, at Hospice of Southwest Ohio, after complications to a decades-long illness. He was 76.
Jon was born on July 19, 1946, in Duluth, Minnesota, to Hilda (Koski) Saari and Werner "Fred" Saari. The grandson of Finnish immigrants, Jon was the youngest of three children raised in Detroit, Michigan, a location that provided inspiration for four of his lifelong passions: literature, music, film and all things Detroit sports. As a child, Jon spent his allowance on comic books, the records of Motown, Saturday matinees and bleacher tickets. A voracious reader, Jon excelled in school; his parents, neither of whom graduated from high school, would see their two sons go on to earn Ph.D.s.
Jon was a perpetual student and an insatiably curious person. He knew from a young age that he wanted to be a professor. In pursuit of this goal, he attended Michigan State University, graduating with a B.A. in American studies in 1968. He attended Purdue University, and in 1970 earned an M.A. in the same field, before taking his doctorate in English Literature at Bowling Green State University in 1974. It was there he met his wife of 51 years, Peggy (Maurice) Saari. Peggy was a graduate student with two young children, Melissa Allison, now Rapp, and Stephen Charles Allison, now deceased. Jon and Peggy shared many of the same passions and developed a friendship that became the basis for their longtime marriage. In 1976, they welcomed their son Aaron into the young family. Jon entered a particularly difficult academic market in the 1970s; he fell into public relations, first at the University of Cincinnati's College Conservatory of Music, and then at Antioch College. All the while, he yearned for the classroom.
The Saari family moved to Yellow Springs in 1986 at a propitious time for Antioch; the Center for Adult Learning and the Individualized Master of Arts (IMA) program were merging and became the School of Adult and Experiential Learning. Jon and Peggy both were among the original faculty at the school. Jon flourished in the classroom. He became known as a demanding, but inspiring professor. He taught courses in writing, literature and film. Soon, he was working with graduate students in the IMA program, which at the time was a unique program that allowed students to construct their own graduate degrees, a model that has since been adopted throughout academia. Jon rose to chair of the IMA program, a position he held until his retirement.
Over the course of a 30-year career, Jon taught hundreds of students who went on to be published authors, filmmakers, actors, professors and professionals. In the 1990s, Jon began working with the New School in New York City, where he taught and mentored playwrights and performance artists, as well as authors and poets. At various times he wrote for The Antioch Review, and was the editor of "Ohio Short Fiction," a collection of stories by Ohio writers. Jon had a prodigious memory for plots, and could recite them, sometimes to the chagrin of his family, point-by-point. He was passionate about the role of narrative in establishing human understanding; one of his favorite things to do was to put a book in someone's hand. While a highly educated man, Jon was also an autodidact. Over his lifetime, and with his family, he amassed a library of over 6,000 volumes spanning the topics of human knowledge.
In the late 1980s, Jon began working with the Little Art Theatre, which was owned by Antioch at the time and was in danger of being sold or possibly closing. Jon, who had spent his life seeing films in small, independent theaters, felt called to do what he could to revive the Little Art, which he viewed as something precious to Yellow Springs. He purchased the theater in 1990, and with longtime employee and future owner Jenny Cowperthwaite Ruka, helped make changes that brought in new audiences, such as a concession stand and children's matinees. Jon introduced a combination of popular and art films, a decision that was not always well received, but one that undoubtedly helped save the theater. Over the course of a decade, Jon gave a number of local teens their first jobs, while himself never taking a penny in salary; just the ability to watch any film for free. His stepson, Stephen, was a projectionist; his son, Aaron, a less conscientious employee, worked in multiple positions, and Peggy made the very popular Key Lime bars.
Jon loved music, particularly that of Bob Dylan, a passion he shared with his family. Together, sometimes with Peggy and Stephen, but by the mid-1990s, mainly with Aaron, they would see dozens of concerts. Family summer vacations often involved museums, theater productions, chamber music concerts and almost always a Tigers game. The family home grew so it could accommodate the ever-growing collections of books, records, films, magazines, newspapers and art.
The lives of the Saari family changed dramatically in 1998. Jon was diagnosed with acromegaly, a rare pituitary disorder often described as gigantism, and a resulting brain tumor. At the same time, Stephen, the oldest and much beloved son, was diagnosed with schizophrenia, the same condition that had plagued Jon's older brother, Fred, known as Buzz. Starting in early 1999, Peggy and Aaron would begin a nearly 25-year period as caregivers. While Stephen passed in 2002, Jon was able to have longer stretches of health, despite, at various times, experiencing blindness, having a pacemaker installed, acquiring an artificial hip, going deaf and requiring an always-revolving cast of doctors and medications. Jon ended his teaching career in 2014. In his early retirement, he and Peggy traveled by train and by sea. He delighted in his granddaughter, Caroline Schmidt. His daughter-in-law, Miriam Eckenrode, joined the household and became another caregiver as Jon's health began its slow decline.
Jon's last years were difficult and filled with emergency rooms and facilities. Every step of the way, he was cared for by Peggy and Aaron, but he fell especially ill during COVID, which restricted family access. In his final moments, Jon was tended to by Aaron, former pastor of First Presbyterian Church of Yellow Springs, who witnessed his father, a lifelong self-proclaimed atheist, have a profound deathbed encounter with Jesus and declare his faith in God. This is not a triumph of the cross or a story of a lowly atheist finding religion; it was a profound, peace-filled experience that allowed Jon to let go, assured and affirmed that he, like all of us, is an imperfect person, but a good one in the measure of all things.
A funeral service will be held at First Presbyterian Church at 11 a.m. May 20, led by the Rev. Daria Schaffnit. The family has asked that in lieu of flowers, please purchase, donate or distribute banned books to libraries, book drives, book clubs and schools. Or be like Jon, and place those volumes directly into the hands of those who will be denied the right to read what they want. A musical tribute can be viewed at thebipolaralbum.com.