Winnie Ruth (Jensen) Church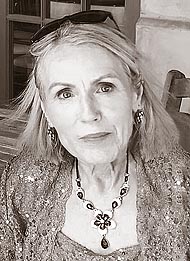 Winnie Ruth (Jensen) Church passed away on March 24, 2023, at home in Menlo Park, California. Winifred was the second child of Martie and Dave Jensen, and was born at Community Hospital in Springfield, Ohio, on Dec. 29, 1953. She grew up in the Vale near Yellow Springs and went to the Antioch School and Yellow Springs High School. She graduated from Antioch College with a degree in elementary education. She met her husband, Tom Church, at Antioch College, and they moved first to Massachusetts and then to California, where they raised their son, Nicholas.
Winnie enjoyed all things beautiful and was a kind and loving daughter, sister, wife, mother and friend. She was known for her elegant sense of fashion, excellent taste in antiques and passionate talent for baking and cooking, which she shared through birthday cakes and delicious contributions to potlucks with family and friends. Throughout her adult life, she cherished the companionship of several beloved rescued Siamese cats. She had a deep appreciation for nature and the rights of all beings; she loved artwork of moonlit rivers and seas; supported fair labor practices through careful shopping; and signed petitions and made donations for environmental protection. Winnie also adored gardening, reading, and the color blue. When it rained in California, Winnie enjoyed the sound on the roof. When in Ohio on snowy days, Winnie treasured the chance to shovel snow. She wanted to know every year when the spring beauties were blooming in Yellow Springs.
In Massachusetts, Winnie worked at the Belmont Public Library. In California, she worked as a teacher's aide at Laurel Elementary School, which her son attended, and at The Pet Place, a pet supply store.
Winnie was preceded in death by her father, Dave, and her brothers, Peter and Joel. She is survived by her mother, Martie; husband of 35 of years, Tom; son, Nicholas (Kasey); siblings and their families, Raven (Mike), Ian (Erica), Bjorn (Natalie), and Marian; two sisters-in-law, Kitty (Patty) and Kathy; nephews, Mike, Kumar, Julian and Felix; nieces, Lila Rose (Cassidy) and Risa; and numerous aunts, uncles, cousins, grandnieces and friends.
The family will notify loved ones when a memorial service is scheduled. In lieu of flowers, you may donate to the ALS Association at donate.als.org in Winnie's name.