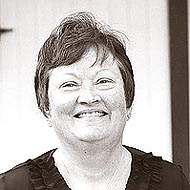 Karen Sue Ward, age 64, of Xenia, passed away Tuesday, April 25, 2023. She was born April 3, 1959, in Springfield, Ohio, the daughter of Joyce (Demmy) and the late Floyd "Catfish" Merritt.
In addition to her father, Karen was preceded in death by her husband, Richard "Rick" Ward, in 2008; and her brother-in-law, Stephen Wilson.
Karen was recently honored for dedicating 43 years of service to the Greene County Health Department, where she served as the vital statistics registrar. She welcomed customers with a friendly smile and patience. She had an outgoing personality and could talk to anyone. She was a graduate of Yellow Springs High School, class of 1977, and Clark State College.
She enjoyed crocheting, doing word searches and browsing through craft shows. She also loved dogs, and had several very spoiled dogs over the years. She was a very devoted daughter and spent most of her free time taking care of her mother, checking on her over lunch breaks and staying by her bedside when she wasn't working. Karen's family would like to thank the staff of Greene County Health Department for their support during this difficult time and during the time that Karen was absent taking care of her mother.
She is survived by her mother, Joyce; sister, Kay Wilson; nephew, Kenneth (Angela) Wilson; niece, Tiffany (Mike) Edmund; great-nieces and nephews, Kaleb, Alivia, Karley, McKenna and Liam; uncles, David (Linda) Demmy and Ron (Michele) Demmy; aunt, Cindy (David) Miller; special friends, Kim Rickels and Irene Zieja; as well as countless other relatives and friends.
The funeral service was held Monday, May 1, at McColaugh Funeral Home, 826 N. Detroit St., Xenia, with the Rev. William L. Harden officiating. Visitation immediately preceded the services. She was to be buried with her husband at Glen Forest Cemetery, Yellow Springs. Online condolences may be made to the family at mccolaughfuneralhome.com.