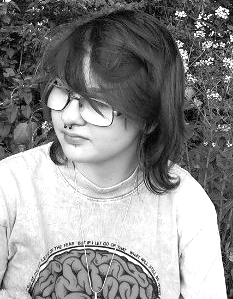 Isaac Estelle (Isla).
Isaac, Hebrew: one who laughs or rejoices — you do, your spirit, so bubbly, so loud. Your love of life is evident and infectious. You chose this name, surely, because it's undeniably cool, but how apropos, too, that it defines a core aspect of your unforgettable personality. You'd probably think it was cringey of me to say so, but it's true.
Estelle, Latin: star — your Grammy's name, the woman who taught me to be a mother, the woman who navigated my own rebellious youth. You never really got to know her, but in your infancy, you were my harbor, my North Star through the grief I endured at her sudden departure. She loved you dearly.
We gave you your birth name because it's so beautiful.
Isla, Gaelic: island — a sovereign, autonomous, wild place. You are.
You are art, you make art of life, you love this life.
I cannot speak of you in the past tense because you are infinite.
I will never be able to reckon why life offers us such stunning tragedy. I can only imagine that the culture of being human requires us to make meaning out of the senseless and then share it with those who also endure our unfathomable fate.
You are a legacy, and I will ensure that to be true.
Myself, your dad, Eamon and Sidney — for all the complexity and frailty of these fateful, love-filled, dynamic relationships — we are shattered. We have so much yet to share, understand and develop within the matrix of our bonds. This work carries on, held by the promise that life is worth living even through the expanse of such inconceivable grief.
The family your dad shared with you in making a home with Kelly, Aiden, Ryann and Jack. I know you shared holidays and events, family outings and experiences; you made memories with them, and they will forever be cherished.
The kids, your kids, your friends. Wow babe, what a crew. I am so proud of your friends, they are compassionate, wise, loving, authentic, thoughtful humans. They're incredible. Thank you for sharing them with me; thank you for giving me a bond with them and their amazing mothers. You brought them into our lives and made a dream of mine come true. I always wanted to be the house where everyone hung out; thank you for making that real. I am deeply proud of the friend you are — you are selfless, intrepid, fearless, boundlessly kind, ruthlessly honest, playful, silly and mischievous, a kid's kid.
This village, Yellow Springs, this community that you love so much, has risen up to carry us all, to provide buoyancy and support; we're all moved in ways that will alter our lives and the culture of this place — forever.
Those who guided your crossing, a gathering of souls, there, so perfectly collected by fate to see you across with peace, dignity and love. A gift and a blessing to me that I know you knew comfort, love, compassion and kindness here.
Your family and friends, far and wide, are all changed forever, having known you since you were small. You were the most delightful baby; interesting, adorable child; and fascinating, thought-provoking kid — you are unforgettable.
Fifteen years isn't enough, baby, but now, somehow, it's infinite. I will carry you and Burrito everywhere. I will travel to all the places, watch all the movies and all the shows, listen to all the music, break all the rocks, eat all the foods, make all the art, get all the tattoos, smell all the lavender, read all the books. I will care for the cats and get your dream dogs Lemon and Business, too, and I will love this life as wildly as you do.
Forever yours, Mom.