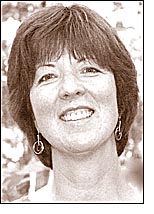 Jordis Ruhl died Monday, Sept. 22, at Friends Care Center. She was 51.
She was born Dec. 7, 1956, a daughter of Ken and Peggy (Jamison) Langness in Moses Lake, Wash. Jordis is survived by her husband, Jerry Ruhl and their son, Oliver; mother-in-law Charlotte Ruhl; siblings David (Teresa) Langness, Paul (Rae) Langness, Cass (Whitney) Judd, and Richard Langness.
Growing up in Prescott, Ariz., Jordis initially worked as a flight attendant for Continental Airlines. She later returned to school and trained as a public relations specialist and writer. After managing her own firm for several years and working as a free-lance writer, she served as manager of corporate communication for Children's Hospital in Denver. She and her husband of 17 years moved to Yellow Springs from Denver in 1998 so that Jordis could spend more time at home with Oliver. She later served as Executive Director of the Antioch Writers Workshop. She was employed as a writer by Children's Hospital of Columbus and Children's Hospital Seattle when diagnosed with a brain tumor in 2006. Jordis was a loving wife, mother, and friend. A celebration of Jordis' life was held Tuesday, Sept. 23, in the Bahá'í Community Center of Yellow Springs.