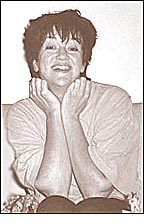 Patricia Waggoner, most recently of Brimfield, Mass., died on Sept. 12 in an auto accident. She was 63. Patty hailed from Dayton, graduating from Oakwood High School and attending Antioch University from 1971-1976. That's when many of us in Yellow Springs became her friend.
By the '80s Pat moved to Boston in search of more educational and personal experiences, but she regularly made trips back to Yellow Springs to stay connected. She has left a wide network of people who loved her —two sons, Jeffrey and Jason, with wonderful growing families; so many, many friends; and her partner of 14 years, Walter ("the Pilot") Hadank.
Funeral services were held in September in Centerville, Ohio — she actually had left instructions for her sons — ever in charge. She will surely be missed.
Friends in the Boston area have established a "Patricia Waggoner Scholarship Fund" at Massachusetts College of Art and Design (MASSART), where she received her Bachelor of Art degree in 1981, if you would like to remember her in that way. Visit her memorial site for instructions: http://www.licensedart.net/patwaggoner. Donations can also be made to MADD in Patty's memory.