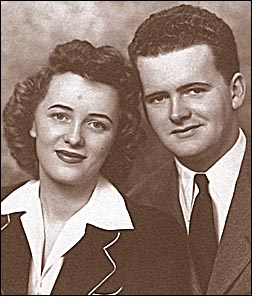 Jean Ruth (Liddle) DeWine died on Oct. 28, 2008, at home in Yellow Springs. She was 83 years old. Her husband of 65 years, Richard Lee DeWine, died shortly after on Saturday, Nov. 1, also at their home. He was 85 years old. For many years, they were the owners of DeWine Seeds and the Ohio Twine Company in Yellow Springs.
Jean was born on June 16, 1925, in Princeton, N.J., to Dr. Albert W. and Ruth P. Liddle. At the time, her father taught literature at Princeton University. His love for Chaucer, Shakespeare, and Milton instilled in Jean very early on her lifelong love of words and books. In 1927, traveling in a 1925 Model T, Jean, her parents, and sisters Dorothy and Judy, moved to Yellow Springs, where Dr. Liddle accepted a teaching position at Antioch College. When they arrived, the house they were to live in was not ready to inhabit, so, being the adventurous family that they were, they pitched a tent and camped for about two weeks in Glen Helen near Birch Creek Cascades.
Jean attended the Antioch School as a youngster and later graduated from Bryan High School in 1943. Growing up, she enjoyed spending time with her sisters, being especially close to younger sister Judy. Jean loved to ride the family horse, Cheyenne. Once, when Cheyenne needed to be boarded, an 11-year-old Jean rode the horse solo from Yellow Springs to Wilberforce, some seven miles away, using only the directions and map that her father drew for her.
Jean's parents and sisters went on many exciting adventures together, despite the hard times of the Great Depression. They spent most summers at her paternal grandparents' farm in upstate New York near Argyle, so her father could help with the farm work. It was an idyllic place for a child. Some of her fondest memories were of those visits to the farm, including climbing up on top of ice in the ice house on hot summer days, riding a hay wagon, and walking to get groceries at the local general store. Jean also loved to frequent the barn to watch her grandparents milk the cows. Later, she would fondly remember her grandmother milking three cows to her grandfather's one!
Jean's parents desired very much for their daughters to experience the world around them. They worked hard to be able to travel to interesting places. They took a cross-country trip in 1936, pulling a trailer across the United States, camping all summer in the West. The following summer, the family traveled to Europe.
Down the street on Xenia Avenue, not far from where Jean's family eventually moved, lived the George and Alice DeWine family, including children Dick, Jerry, and Mickey. Dick was born on Feb. 18, 1923, in their home, which is the present-day location of the Winds Café Wine Cellar. George and Alice ran a feed store next door, and right from the start, Dick's life became intertwined with it.
As a young boy growing up in the heart of Yellow Springs, Dick met a cast of color-ful characters who would frequent the feed business — locals who would shape his lifelong curiosity about and interest in people. Always a hard-worker, Dick would do anything that needed to be done at the feed store, from loading and unloading trucks to delivering feed to local farmers. By age 14, Dick was driving his dad as he called on customers.
Dick attended elementary school in Yellow Springs and graduated from Bryan High School in 1941. When Dick was 17 and still in high school, his best friend went away for the summer and asked Dick to look after his girlfriend — 15-year-old Jean Liddle. Dick did — and he and Jean were inseparable forever after. They married on Sept. 2, 1943, when Jean was 18 and Dick was 20.
Their marriage brought the DeWine and Liddle families close together. Dick's siblings Mickey and Jerry were much younger than he, but he always looked out for them. He and Jean, along with Jerry and Mickey and the Liddle family, enjoyed spending a lot of time together, whether it was going camping or attending one of Mickey's piano recitals. In fact, Jean used to babysit Mickey and Jerry and later Jean's sister Judy did, as well.
After marrying, Dick and Jean lived in Sabina, Ohio. At just 18, Dick started running the grain elevator there until he went into the U.S. Army as a private in 1944. Before going overseas to fight in World War II, Dick trained at Camp Joseph T. Robinson, North Little Rock, Ark. Jean followed him there, working at a five and dime store while he trained. Dick went to Europe with his army company — K Company of the 409 Regiment of the 103rd Infantry Division, 6th Corps of the 7th Army. The company saw combat in France, Germany, and Austria.
Dick and his company were sent to the Dachau concentration camp shortly after it was liberated in spring 1945. Throughout his life, he never forgot the horrific things that they saw there. He also never forgot the men with whom he served, having maintained friendships that spanned six decades. On the day the fighting ended in Europe, Dick was in Innsbruck, Austria, where locals greeted him and the other soldiers with a shower of flowers. Meanwhile, Jean celebrated the German surrender by riding on a fire truck in an impromptu parade down the streets of Yellow Springs.
Dick was discharged from the army in April 1946, and later served as commander of the Thomas Edwin Bailey Post #357 of the American Legion in Yellow Springs, where he was very active, especially in raising money to fight polio. When he came home from the war to his beloved Jean, he joined his parents' business, and in time, would run it. Out of that little office and mill, with Jean right there working at the front desk, they turned the company from a local feed, coal and seed business into an international trading giant and the country's leading exporter and importer of seed grains and grasses.
Dick was a brilliant negotiator, trader, and investor, who built DeWine Seeds and the Ohio Twine Company on close personal relationships — whether they were with local farmers, seed dealers, elevator operators, or international businessmen. These relationships, which he maintained until his death, allowed him to keenly understand the markets and to gather information to make trades and deals across the country and around the world in places as different as Uruguay, Poland, and Ireland. Dick was a real dealmaker. It didn't matter if he were buying a new lawnmower or selling seed in Europe, no one was better than Dick.
In January 1947, Dick and Jean's son, Richard Michael (Mike) DeWine, was born. Dick and Jean were devoted, loving parents, who taught Mike much about life by their own example. Dick taught his son to fish and hunt and to love Cincinnati Reds baseball, Dayton Flyers basketball, and Ohio State football. Jean taught him to love books and the importance of finely crafted words and sentences. She also taught him how to debate and argue.
Dinner table conversations in the De-Wine home covered many topics, including current affairs and politics. Both Dick and Jean were always interested in politics. In the early 1960s, after seeing several of her letters to the editor in the Yellow Springs News, then-editor Keith Howard persuaded Jean to write a weekly column articulating a conservative viewpoint — a position that was not especially mainstream in Yellow Springs. She titled her column, "A View from the Right," and wrote it for a number of years with wholehearted support and encouragement from her husband and son.
In 1959, Dick and Jean built a home on 24 acres on the edge of Yellow Springs on Fairfield Pike. They purchased the property (part of Whitehall Farm) from Martha Rankin, rebuilt the dam that had been blown in 1912, and created a pond, which attracted countless ducks and Canada geese. They spent years converting a pasture field into a mosaic of grape vines, berry thickets, vegetable and flower gardens, and fruit, nut, and stately trees, including sugar maples, spruce, red oak, hemlock and bald cypress. Dick grew many of the plants himself in the greenhouse he built with bricks from the old St. Brigid Church, which he, Jean, and their grandchildren gathered after the 1974 Xenia tornado.
It was here that Dick and Jean put each of their eight grandchildren to work as they were growing up, teaching them how to weed, paint fences, prune trees, pick apples, cherries, and raspberries and mow grass. Dick and Jean were both extraordinary teachers who taught their grandchildren how to enjoy hard work and appreciate a job well done.
They adored spending time with their grandchildren (and eventually their 11 great-grandchildren). Dick would tell amazing bedtime stories to them when they were young, as they lay in a trundle bed — stories about leprechauns and fantastic characters like the "Flying Mouse," the "Giant Goose," and "Brendan O'Callahan." Jean, or Mama as she would come to be known, would do word puzzles with them and read books to them and write amazing rhyming poems on their birthdays.
Dick and Jean so enjoyed their life together. After selling the seed business, Dick and Jean began to buy farmland. Having been involved in agriculture his whole life, Dick especially loved the land. He and Jean collected antique barbed wire and old farm implements and tools, which lined his office and later their barn. They loved to travel to Ireland to visit the places from which Dick's ancestors had emigrated to Yellow Springs in the 1840s. Dick and Jean were also very active in their support of the Becky DeWine School in Haiti, run by Father Tom Hagan and Hands Together, as well as Dr. John Peterangelo's humanitarian efforts in Belize.
Over three years ago, Dick was diagnosed with pancreatic cancer, which he battled heroically. Jean was always there for him. He was a fighter, repeatedly defying the odds and more than one doctor's prediction. Despite his illness, Dick never stopped working — and never stopped looking ahead to the next venture and next project. He was truly an optimist, who loved life immensely and looked forward to each new day that he had with Jean and their family. For over 65 years of marriage, Dick and Jean DeWine loved each other and took care of each other.
Dick and Jean are preceded in death by an infant son; granddaughter, Becky De-Wine; Jean's parents, Albert and Ruth Liddle; Dick's parents, George and Alice DeWine; Jean's sister, Dorothy Vandiver; Dick's brother, Jerry DeWine; brother-in-law, Lee Hennessy; Jean's grandparents, Charles and Emma Liddle and Franklin and Mary Perkins; and Dick's grandparents, Tom and Mary DeWine and John and Gertrude Budd.
They are survived by their son, Michael, and daughter-in-law, Frances; grandchildren, Patrick, Jill (Bill) Darling, John (Michele Burns), Brian (Kali), Alice, Mark, and Anna; great-grandchildren Michael, Matthew, and Brian DeWine, Albert, Isabelle, David, Caroline, Justin, and Mary Darling, and Josephine Jean and Rebecca DeWine; Dick's sister, Mickey (Dick) Harwood; Jean's sister, Judy Hennessy; sister-in-law, Polly DeWine; niece, Juliet (Chris) Waldron; nephews, Kevin (Mary), Nick, Brian (Kelli), and Kelly (Heidi) Hennessy; and countless friends.
Arrangements are being handled by Neeld Funeral Home in Xenia. A mass of Christian burial for both Jean and Dick was held at St. Paul Catholic Church, 308 Phillips Street, in Yellow Springs, Wednesday, Nov. 5, at 11 a.m. In lieu of flowers, the family asks that memorial contributions be made to the Becky DeWine School in Haiti, c/o Hands Together, P.O. Box 80985, Springfield, MA 01138.