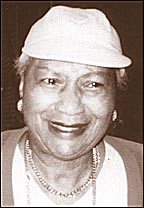 Martha Adams McIntyre Riddle, a former Yellow Springs resident and member of Central Chapel AME Church, died on Nov. 19, at the Maranatha Care Center in Brooklyn Center, Minn.
She was born in Rock Island, Ill., to William and Mamie Adams. Early in her childhood the family moved to Fort Wayne, Ind., where Martha received her education and participated in sports.
Her professional career began in Chicago with the Defense Department. She later transferred to Wright-Patterson Air Force Base as an Army and Navy contract analyst living in Jeffersonville, Ohio, and later moved to Yellow Springs. Martha joined Central Chapel and immediately began supporting the church youth because she felt that this was an opportunity for older members to become better acquainted with the youth. She also showed strong compassion for the aged, often assisting Rev. Mathews and Miss Susie Brown on Saturdays at the Senior Citizen Thrift Shop. Although Martha later lived in different states, she maintained a connection with Central Chapel members and its activities.
In 1976 Martha married her first love, Virgil Riddle from Ft. Wayne, Ind., retired from WPAFB and returned to her old stomping grounds. It was as if she never left Fort Wayne. She enjoyed renewing childhood friendships and making new friends. Martha, an only child, was gregarious and very personable; with dancing eyes, an inviting smile, and a fashionable and colorful dress style. She did not meet strangers.
In 1980, Martha and Virgil moved to Las Cruces, N.M., and quickly made lasting friendships with a diverse group of people including other Department of Defense retirees. Martha continued being a "garage sale junkie," playing bridge and participating in the local government retiree association. She fell in love with the towering mountains that she found to be peaceful and strengthening and joined a small church reminiscent of the old Central Chapel Church.
During her 27-year marriage to Virgil, Martha developed close relationships with his nephew, Ronnie Neville and family in Brooklyn Center, Minn., and Virgil's cousin, Mary Williams of Chattanooga, Tenn. They and Virgil's daughter, Cynthia Riddle of Washington, D.C., maintained close contact with Martha after Virgil's death in 2003. Martha later moved to Brooklyn Center to be near the Neville family and quickly made new shopping and bridge friends in her new apartment complex and attended church.
Her parents and her husband preceded her in death.
The family and Brooklyn Center's Washburn-McReavy Crematorium honored Martha's request for cremation and no services. Martha Adams McIntyre Riddle will be missed by Central Chapel members and many others to whom she was "the other mother," "auntie," "sister," confidant, and above all — a friend through good and bad times.