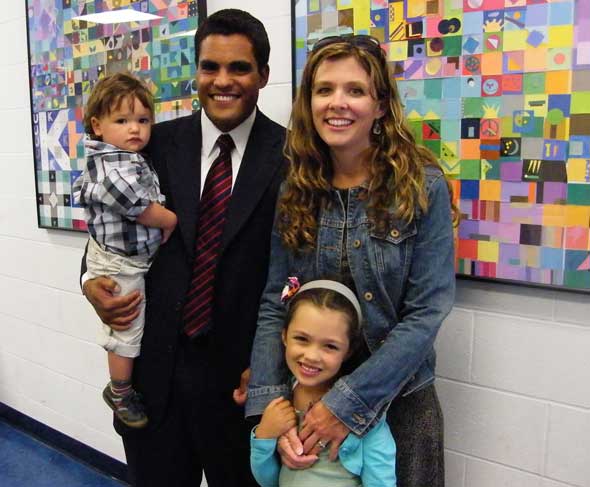 Mario Basora, a candidate for the village's superintendent position, presented to the community at Mills Lawn Wednesday night. Also in attendance was his wife, Alice, and children Mateo and Carina. Basora is currently the principal of Wyoming Middle School, the top-performing school in the state. (Photo by Brooke Bryan)
Final superintendent candidate visits
Mario Basora, the third candidate for the superintendent position in the Yellow Springs School District, presented elements of his life and work to the community at Mills Lawn on Wednesday evening. Basora — who is currently principal of Wyoming Middle School in Cincinnati, the state of Ohio's top performing school — said it's important to him that the community get a feel for who he is and how he thinks about education. First, he said, is his family. And he happened to bring them along.
Basora met his wife, Alice, when he taught seventh grade social studies. A youth advocate-turned-teacher, she now stays home with daughter Carina, who is in kindergarten this year, and son Mateo, who is almost 2. Yellow Springs is one of the family's favorite past times, Basora said, and they are eager to establish themselves in a small community that values dialogue and collaboration.
"For me, my family is important," he said. "If I live in the community, and my family is part of it, then we will make it an integral part of everything we do."
Basora, who has researched Yellow Springs schools and kept abreast of current events and discussions in the Yellow Springs News (he subscribed to the print version after being prodded by Sam Eckenrode), said the most important thing for a new administrator to remember when entering a new district experiencing an administrative shift is to seek the ideas and opinions of veteran staff and teachers. Dialogue is important, he said, and Basora has used innovative strategies to ensure that the will of the group — not just sheer majority — drives decision making.
Basora's educational philosophy is rooted in the idea that literacy is a civil right. As someone who has endured and overcome hardships in order to excel in his life, he said it is important that educators understand what motivates students to achieve. The biggest question every educator must ask is "what do we do when our students don't learn?"
As an administrator, Basora has a proven track record of improving student performance (especially with those groups who can be seen to traditionally underperform) and has unveiled successful and sustainable community initiatives, despite lack of funds for new programs, he said. More details on his administrative background, his accomplishments, and his educational philosophy will follow in this week's News.
"I'm very driven by how kids learn," he said. "I think education is the tool to make positive change in our world."
After the presentation, the Board of Education and the core superintendent search committee met in executive session to discuss the three finalists who visited this week. Board members plan to visit the final candidate's place of employment to talk with colleagues, staff, and community members. Board president Sean Creighton said it is expected that an offer will be made to the final candidate in April, and that, after negotiations, the board will likely vote on the candidate in May.