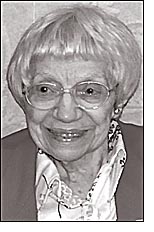 Former village resident Pauline Portugalo Breiter died Sunday, April 25, in Bloomington, Ind. She was 96.
Born March 8, 1914, in Brooklyn, N.Y., she was the third of four daughters to Meier and Dora Portugalo. Her parents emigrated from the Ukraine during the first decade of the last century, and they sold fruit and vegetables from pushcarts and stores in New York City. Pauline recalled how canned fruit was a novelty to her, something to enjoy when visiting relatives.
Pauline was stricken with polio while still a young child, but a series of experimental surgeries allowed her to walk without crutches. She worked as a teacher and recreation leader for children in New York City during the Depression, and was the first in her family to venture out of New York City to take a federal job at Watervliet Arsenal near Albany, New York, as the nation geared up for WWII. In Albany she met her future husband, Mark Breiter, a mathematician, who had also grown up in New York City.
Within a year, they had found better jobs in Washington, D.C., where they were married first by a justice of the peace, and then again when Pauline's father arrived by Rabbi Jolson, the father of Al Jolson. After WWII, sons Dennis and Donald were born in Washington, D.C.
After a brief stay in Aberdeen, Maryland, the family relocated to Dayton and then Yellow Springs, when Mark was transferred to Wright Patterson Air Force Base to continue his career as a Defense Department civilian mathematician. Pauline later worked as a high school librarian in Yellow Springs. The Yellow Springs years were happy ones for the family, and Pauline retained fond memories of this Midwestern utopia, and continued to communicate with friends there for the rest of her life.
A diagnosis of Parkinson's disease for Mark led to his early retirement in 1970, when he and Pauline first lived in Laguna Hills, Calif., and then returned to the Midwest, where they lived in Columbus, Ind. until Mark's death in 1988. Pauline would follow her son Donald's family to Ann Arbor, Mich., and then back to Indiana, living in various retirement settings. In Ann Arbor and Bloomington, Pauline enjoyed watching her two granddaughters, Kate and Elena, grow up, and she participated in family holidays and celebrations.
Pauline quickly became a friend to all who met her. A true people person, she loved to hear about the lives of others and share her experiences. She was widely appreciated for her genuine kindness and respect toward others. Wisdom and common sense permeated her dealings with others. She was full of energy, optimism and compassion for those around her. From an early age, she showed a determination to reach out and shape her life, in spite of physical handicaps, and encouraged her children and grandchildren to always look forward and to pursue their dreams. She prized her independence and self-reliance, which she succeeded in maintaining until the end.
Pauline Breiter is survived by son Dennis and his wife Claudia Breiter of Houston, Texas, and son Donald and wife Debbie Breiter of Bloomington, Ind.; granddaughter Kate and husband Ethan Uslan and granddaughter Elena and husband Josh Halterman; and great-grandsons Benjamin and Henry Uslan, all of Charlotte, N.C. Her younger sister, Molly Portugalo Katz of Florida, survives.
At Pauline's request, no funeral service will be held. In lieu of flowers, contributions may be made to the Jewish Theatre of Bloomington Pauline Breiter Memorial Fund, care of Henry Berman, at 1005 S. Meadowbrook, Bloomington, IN 47401.