Yellow Springs kids play Fair to win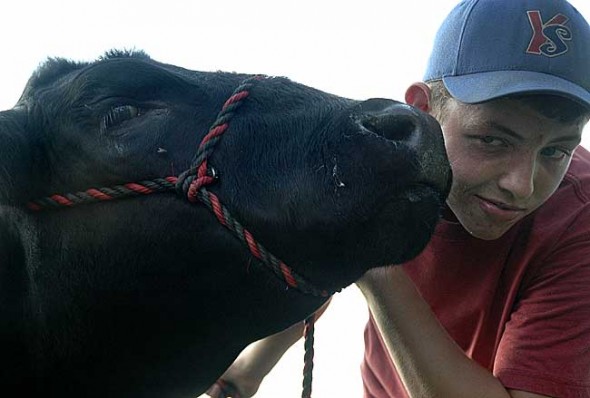 At his family's farm last week across from Dollar General, 16-year-old Austin Pence was using the cool of the dusk to wash and blow dry two of his favorite animals. Mabel, a year-old heifer, and Bart, a 17-month-old steer, hung by the white barn calm and collected as their black coats began to take on a fluffiness. That excess hair is a key component of the look both Pence and the judges are after when they evaluate the cattle for best in show next week at the Greene County Fair.
Fuzziness is essentially an optical illusion that makes the cows look bulkier and boxier, which translates into more cow for prospective buyers, Pence said. Pence tapped Mabel's legs just slightly askew with a training rod, and the two posed together in an upright judging stance. Then Pence leaned over and looked her right in the eye, before the heifer stuck her tongue out and licked Pence's cheek.
"You can't go out there once a week and expect them to be tame," he said, as he led the 1,200-pound cow easily to a freshly mowed spot in the sun. "It's a full-time thing to tame them. And you don't be mean — that's a big thing, because you're earning the animal's trust."
The Greene County Fair was traditionally a gathering for agricultural buyers and sellers to interact and celebrate the bounties of the farm. Local cattle farmer Scott Hammond remembers his father taking his own steer and calves to show at the fair, which is currently more focused on training youth through 4-H clubs how to live off the land. Now Hammond and his wife Karen help their girls Megan and Rachel to raise the calves and heifers they take to the fair each year, so that they will know what goes into the cattle business they run on their 500 acres off of East Hyde Road.
Many of the 22 local youth in the Dreamcatchers 4-H group that Pence and the Hammonds belong to are taking projects to the fair, including calves, hogs, alpacas and a dress made out of duct tape. And while most of them are still deciding what direction their lives will lead,  Pence already knows he wants to make more of farming than a week at the fair. He wants to make it his career.
At first it was about winning. At 9, Pence began taking the purebred Angus cattle that his parents were raising to show at the fair. But determined as he was, he couldn't impress anyone with his sleek, slim looking steer. Once he realized he had the power to change that look, he took a keen interest in the breeding process.
His father Glen Pence knew how to artificially inseminate their cows to produce animals with desirable characteristics. And though the Angus was selling, Austin convinced his parents to cross-breed their herd with some Simmental and Maine-Anjou, breeds known for their rapid growth and docile nature, so that he would have a better chance at the fair. He began to win, and more notably, he developed a serious interest in caring for the 90-head of cattle his parents were raising outside of their day jobs. Then a year ago, Glen had a heart attack, and Pence was called on to begin to manage the entire operation himself.
"Austin really manned up and took on the farm," his mother Bonita Pence said last week.
The more responsibility he took, the more Pence began to see the farm not as a hobby but as a business. And like any good businessman, he knew to ask for help.
His dad taught him how to fertilize the heifers and use one of their four "clean up" bulls to make sure the job was done right. He met Dave Geyer from Illinois, who led a show calf workshop at Cedarville cattle breeder Campbell Co., where he got a job this summer. Pence also began working with an embryologist named Justin Slaven, from DeGraff, who helped him buy Mabel and is entitled to a share of her eggs, which if Pence has wagered correctly, will have a value of somewhere between $100 and $1,000.
"It's easier now — up to two years ago we all cried when they sold," Bonita Pence said of the first cows Pence took to the fair. "Now they're more of a job for him than a pet."
Pence is now raising his first club calf, a very fluffy red and white spark, which at five months already weighs about 275 pounds. A club calf, she will be raised as a show animal and, Pence hopes, her soundness of body and gait, along with her color, will raise her value as a potential show ring champion.
"She has her dad's character and her mama's colors (bright red), that's good for shows," he said. "You're looking for a sharp, clean look with a color that catches the eye."
The Dreamcatchers 4-H club was founded this year in Yellow Springs by Bonita Pence, Scott Hammond, Chris Linkhart and Toni Fulton. The Greene County Fair runs Sunday, Aug. 1 through Friday, Aug. 7, at the Greene County Fairgrounds in Xenia.