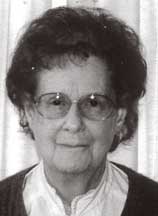 Dr. Eleanor Marks Pao, of Fayetteville, N.Y., died Saturday, Feb. 5, following a long illness. She was 88.
Eleanor was formerly the chief of the Food and Nutrition division of the Department of Agriculture in Washington, D.C., where she had a very prominent career. She published several textbooks and scientific papers. She also taught at the University of Maryland and Howard University.
She is survived by her husband, Dr. Channing Pao, children Norman Pao, married to Carol Campbell Pao, Lucille Pao Mayne and her husband, Gary Mayne and Barbara Pao Shanahan and her husband Peter Shanahan. She is also survived by three granddaughters, one grandson and one great-grandson. Dr. Channing Pao, who resides in Fayetteville, N.Y., was by her side every day.
There will be no calling hours. Graveside services will be held in Sebring, Ohio.