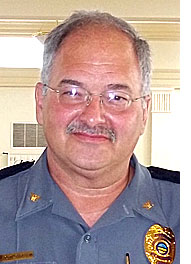 Police Chief John Grote announces plans to retire
Yellow Springs Police Chief John Grote announced recently that he plans to retire from the service in April of 2012. He is leaving due to recurring health issues, he said earlier this week. In April he will have 25 years with the Village police department.
Grote, 54, grew up in Yellow Springs and started his career with the local police department in 1984. He has been chief for the past five years, and currently oversees 22 full- and part-time officers, dispatchers and police property managers.
Village Manager Mark Cundiff plans to begin a search for Grote's replacement in October. He anticipates a process that utilizes an "assessment center" with evaluators from outside the village and a panel of local residents to evaluate and recommend the best candidate.
See this week's News for more details.