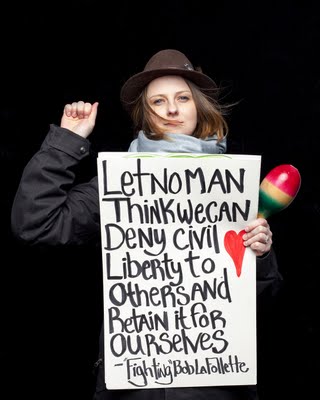 Emporium to feature protester portraits
The Emporium will host a photography exhibit by artist Kevin Miyazaki in January and February, featuring portraits of this year's Wisconsin statehouse protesters. Miyazaki took the photos in April and May, before the legislature voted to reduce bargaining rights for public employees as part of its budget bill. At its height, the demonstrations attracted as many as 100,000 protesters.
Miyazaki wrote an artist's statement for an exhibit of his work in galleries in Madison and Cleveland in the spring. In it, he explains what the protests meant to him.
"These portraits were made on the sidewalk outside the Wisconsin state capital building in Madison. During the protests, the unofficial theme, expressed in words, drum beats and car horns, has been, "This is what Democracy looks like!" This is what Democracy looked like to me, in the form of faces, signs, buttons, and hard hats."
Miyazaki planned to donate the proceeds from the sale of his photos to Progressives United, an organization founded by former U.S. Senator Russ Feingold of Wisconsin.
More about the exhibit will appear in next week's Yellow Springs News.