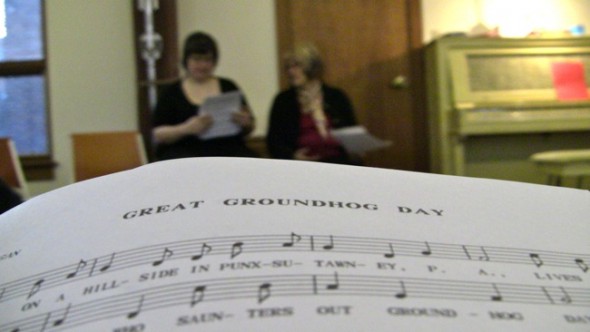 AUDIO: A Groundhog Day song
On Feb. 1 a group of community singers gathered to learn Beverly Logan's original 1978 work, "Great Groundhog Day." We did our best with the eight verses, sung as solos, duets, quartets and, ultimately, an octet.
[soundcloud id='35434206′]
Lyrics:
In a burrow on a hillside in Punxsutawney, PA. lives a groundhog, Punxy Phil, who saunters out Groundhog Day. Oh a groundhog is a woodchuck is a marmot, they say; you can see him, or his shadow, in Punxsutawney, PA. Oh how much wood would a woodchuck chuck if a woodchuck would chuch wood?' He would chuck just as much wood as a woodchuck would chuck if a woodchuck would chuck wood. Fearless Phil, he glides out from that burrow Feb. 2, tells the rest of the country what the weather will do. Oh the children they shriek and the old folks ballyhoo– will Phil see his shadow on the snow underneath his shoe? What evil lurks in the shadow today? The Shadow, the Shadow, knows:  winter will stay. Oh it's six weeks more of winter this year if Phil sees his shadow—we tremble with fear! Well he don't see no shadow 'cuz there ain't no sun, Phil don't see his shadow so winter is done. O Groundhog Day, O Great Groundhog Day!