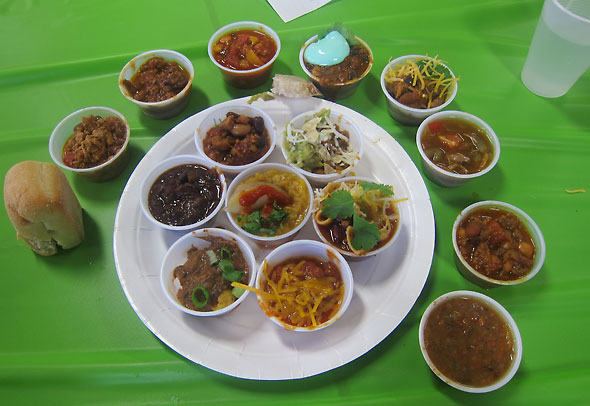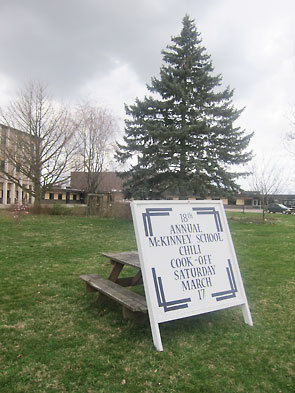 Saturday night we joined the 18th Annual McKinney School Chili Cook-Off. This year's event fell on St Patty's Day which made the bash ever more festive for all the bright green decking cooks, tasters, and chive-dressed chili. My husband loves his food with a strong spicy kick, and he is vigilant in March making sure this event gets highlighted on our family calendar. We've made it every year so far since moving back to town, and often a good friend travels up from Cincinnati with his family to join us. Our friend is known to sigh wistfully as more than once friends come up to ask if they can join us. The companionable atmosphere holds considerable charm, and each year our friend talks more seriously about moving north.
By all accounts, the competition was tight this year. Seasoning is key to a winning chili, and getting the proportions right takes experimentation and sometimes hard won experience. My Grandpa Kelly and Cousin Michael would make chili together and once, upon adding the chili powder, the cap came off the spice jar. Faced with a towering mound of hot spice melting into their beloved chili, they first tried scooping out the excess powder. When that didn't remove enough, they decided to make more chili. And more. And more. In the end they had to give up. That day, eyes watering from as much the waste as the unbearable heat, Grandpa Kelly and Mike threw away about ten gallons of 14-alarm chili.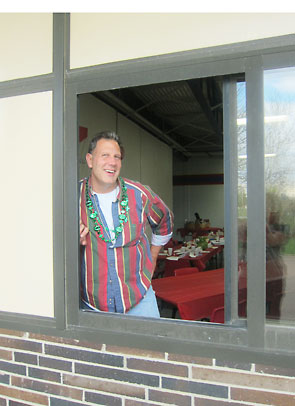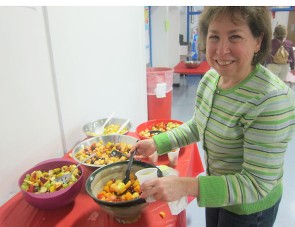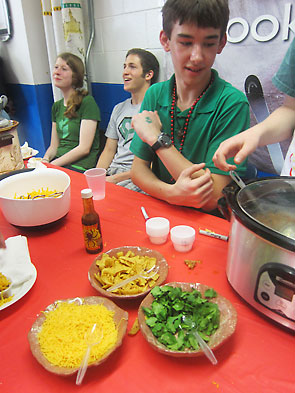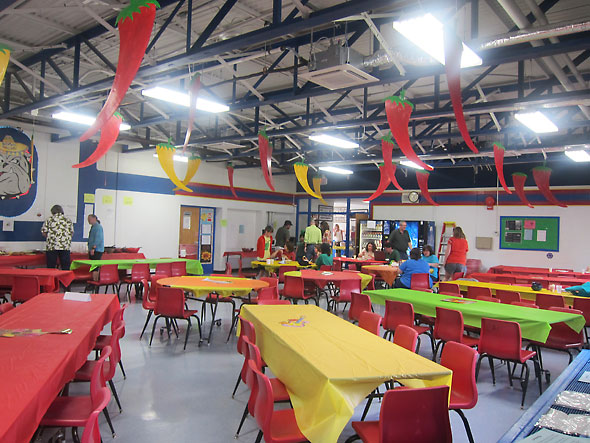 I love a good chili con carne, and my favorite chilis at this year's event were the ones featuring pulled turkey. A fine selection of meat-lover and vegetarian fare, each chili had its own distinct color and character: a testament to the eclectic mix that is Yellow Springs. To gauge the spices of my favorites, I let each brew cool down. At room temperature, it is possible to discern the subtle flavorings and gain a humble appreciation for those who got it especially right. To the people's choice winner, Dan, I'd love to learn your secrets, but for now here is my recipe. My very first homemade chili wouldn't have won this year's competition, but we'll see how much progress I can make in advance of next year's cook off, a well-seasoned event in itself.
Lamb Chili Con Carne

8 oz cranberry beans
1 small carrot
4 leafy stalks of fresh parsley
1 tsp salt

8 large tomatoes
4 cloves of garlic, skins on
1/2 lb ground lamb
1 medium onion
1 tsp salt
Pepper to taste
3 medium carrots, minced
1 tsp cumin
1/2 tsp coriander
1 chili pepper, dried and ground
3/2 cups wine

Toppings:
1 lime
chives or wild onion
parsley leaves
plain yogurt, strained

Prep: Let the beans soak overnight in 3 times their weight in water.

Preheat oven to 400 degrees. Drain and rinse the beans. In a large sauce pan, place the beans, the parsley stalks, and small carrot in a large sauce pan. Cover with water to 1 inch above the beans. Bring to a boil then reduce to a simmer for 75 minutes. Add salt. As the beans cook on the stove, roast the fresh tomatoes and garlic cloves in the 400 degree oven for 45 minutes or until they start to caramel on the bottom. Remove the skins from the tomato and garlic. Deglaze the roasting pan with a little wine and add this gravy to the tomatoes and garlic; puree, and set aside.

Mince the onion and add olive oil and salt to a dutch oven over medium heat. Stir until the onion becomes tender and crumble in the lamb. Add the minced carrots, cumin, coriander and cook 2 minutes. Add the pureed tomatoes, wine, and cooked beans and reduce for 45 minutes to an hour stir constantly. Be attentive here as it is easy to burn the chili near the end.

Divide the lime into eight wedges. Serve chili with a lime wedge and other toppings.
Serves 8.