CMYS finals features winds, brass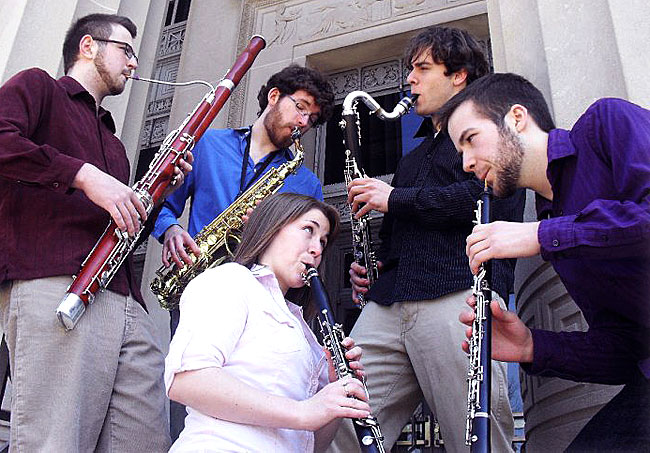 By Jeff Huntington
Chamber Music Yellow Springs will present the finals of the 27th annual CMYS Competition for Emerging Professional Ensembles on Sunday, April 29, 7:30 p.m., at the First Presbyterian Church. This competition is designed to give recognition and a career boost to two professional ensembles in their twenties who appear likely to be able to make a real difference to chamber music if given encouragement.
This year's finalists are the Akropolis Quintet of Ann Arbor, Mich., an all-reed ensemble of oboe, clarinet, saxophone, bass clarinet and bassoon, and the Axiom Brass Quintet of Chicago, made up of two trumpets, French horn, trombone and tuba. Wind ensembles are generally held back by lack of repertoire, and both the Akropolis and the Axiom are working heroically to expand that repertoire by commissioning and championing new works. The Akropolis is Tim Gocklin, Kari Dion, Matt Landry, Andrew Koeppe and Ryan Reynolds. They have chosen to play an arrangement of a suite by Rameau and brand-new works by Chiel Meijering, David Heetderks, Ton ter Doest and Turkish composer Babur Tongur. They have already won first prizes in the Plowman and MTNA chamber music competitions.
The Axiom Brass, prizewinners in the Fischoff, Plowman, Passau and Jeju City competitions, is Dorival Puccini, Colin Oldenberg, Matthew Oliphant, Brett Johnson and Kevin Harrison. Their program runs from J. S. Bach through Victor Ewald to recent compositions by Witold Lutoslawski, David Sampson and Malcolm Arnold.
The finalists were chosen by competition chair Ben Miles and panelists Bill Spohn, Mary White, Ruth Bent, Jeff Huntington, Chris Chaffee, Sean Vore and Franklin Cox from videotaped entries. The judges for the finals will be Cristian Ganicenco, principal trombone of the Cincinnati Symphony and a chamber musician himself, Benjamin Freimuth, bass clarinetist of the Cincinnati Symphony and Kenneth Kohlenberg, music director of the Miami Valley Symphony, professor at Sinclair College and a trumpeter. Each finalist will perform a program of about 50 minutes, and then the judges will award the prizes of $4,000 and $3,000 on the spot.
WSU Professor Chuck Larkowski will give a free pre-concert lecture at 6:45 p.m., and there will be a reception and dinner following the concert, for which a reservation is required. Call 374-8800 or visit http://www.cmys.org to reserve seats at the concert or the dinner. Tickets at the door are $20 for adults and $6 for students.
The performances will be recorded by SoundSpace in Yellow Springs for broadcast over WDPR/WDPG-FM on Saturday, Aug. 18th at 10 a.m. Millard Mier will videotape the concert for the Community Access cable channel.