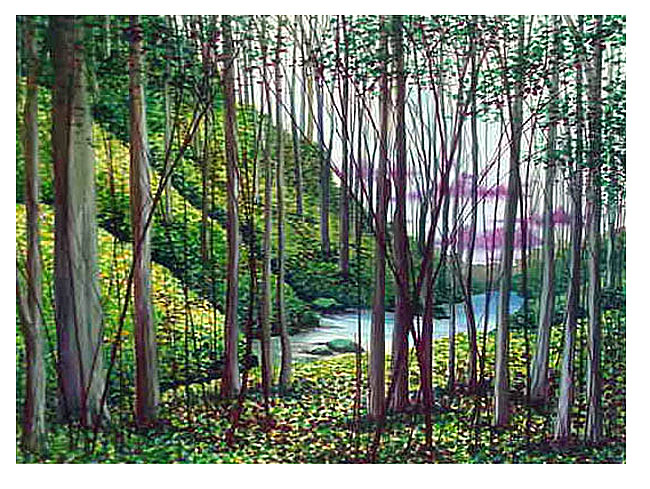 Village Art Stroll features guided tour
YELLOW SPRINGS ART STROLL
Friday, October 19, 6-9 p.m.
YS Art Stroll is a major arts event in Yellow Springs, with many galleries and cafes open to provide artistic entertainment. During October Art Stroll, there will be two "Guided Art Strolls" (6:30 p.m. and 7:30 p.m.) led by local artists. Park in the Glen Helen Corry Street lot for the evening, and join us for a guided tour through many of the Village's art venues. Start your weekend with a feast for the senses!
Glen Helen Atrium Gallery, 405 Corry St., Exploring Nature's Worlds: Paintings by Nancy Fisher
Nancy Fisher's "Exploring Nature's Worlds" exhibit features colorful and crisp portraits capturing the beauty and simplicity of life. Fisher contextualizes the human experience in terms of the flora that influences our emotions and interactions. Add an "environmentally-friendly" aspect to your Art Stroll.
John Bryan Community Pottery, 100 Dayton St., Celebrating JBCP: Community Testimonials
Join in Celebrating JBCP: Community Testimonials. The "Pot Shop" Team wishes to celebrate its achievements with a toast to everyone involved in this wonderful studio! Photographs by Nadia Mulhall and Lynn Riewerts Carine as well as pottery by students, teachers and members past and present will be featured.
Spirited Goat Coffee House, 118 Dayton St., Selected Works from Tony Powers & I.A.M. Finn Art
Stop in to hear the music of Giggle Grass, and enjoy the sketches of Tony Powers and the paintings of I.A.M. Finn Art. A unique collection of artwork from two young local artist-musicians is waiting for you! Spirited Goat provides vibrant and friendly environs, ideal for a relaxing conversation in the midst of great art.
Village Artisans, 100 Corry St., Dare 2B Square
The Opening Reception for the annual Dare 2B Square show highlights work from a diverse range of local artists, with all pieces being 12-inch x 12-inch in size. Enjoy beverages, hors d'oeuvres and the company of interesting creative individuals. Village Artisans is always a fun and comfortable place to be!
Julia Etta's Trunk, 100 Corry St., Creative Designs from Color Me Cotton, Sympli & Sno Skins
Julia Etta's Trunk features creative fabrications from several designers during Art Stroll. Color Me Cotton presents a new line of corduroy jackets, Sympli offers fresh designs in Aruba & Merlot, Steel Pony highlights natural fiber sweaters and NY-based Sno Skins shows its knit tees. This reception is catered by The Winds Cafe.
YS Arts Council Gallery, 111 Corry St., Ingrid Edwards – CIRCLES AND POCKETBOOKS
Ingrid Edwards's life has been a work of art, and you will enjoy the reflection of her nearly nine decades of experience in her exquisite and impactful acrylic paintings and charcoal drawings. Meet Ingrid, a former Broadway & television dancer, at our Opening Reception, with music on the YSAC Community Gallery's outdoor patio!
"would you, could you" In A Frame, 113 Corry St., Landscapes by Paul Reif
Paul Reif has spent his entire life living and breathing a love for the outdoors and nature. Enjoy his vivid watercolors, acrylics and pastels in this contemporary art gallery displaying the fine work of regional and national artists and craftspeople. With its distinctive pieces, "would you, could you" is an important stop during Art Stroll.
The Winds Cafe, 215 Xenia Ave., Paintings from Mary Baker Koch
Enjoy a truly incredible meal at The Winds in the midst of a stunning collection from Mary Baker Koch. Koch brings thoughtful color schemes to the canvas, capturing the essence of nature. You will be thrilled with the experience – from the subtle flavors to the food presentation to the artwork.
Main Squeeze, 229 Xenia Ave., Paintings by Christine Klinger and Mosaic Pieces by Johanna Smith
Main Squeeze will be hosting a wine making demo coupled with a meet and greet involving several local artists. Christine Klinger, Johanna Smith and photographer Christy Nielsen are among the featured artists displaying their work, and you'll love the bright space the Main Squeeze Team has created!
Yellow Springs Pottery, 222 Xenia Ave., Featuring the Pottery of Janet Murie
Janet Murie has been a member of Yellow Springs Pottery, a retail pottery cooperative established in 1973, since the early 1980s. Murie's interest has always been in form and function, which is reflected in her work. You will enjoy her handmade decorative pieces as well as those of the other nine members of the cooperative.
Springs Gallery, 220 Xenia Ave., Kings Yard, New Abstract Paintings by Christine Klinger
Christine Klinger has a unique perspective that translates to one-of-a-kind color schemes on the canvas. Her imagery evokes deep contemplation and captures the imagination. Springs Gallery exhibits a wide variety of original fine arts, signature crafts and gift items by local and regional artists.
Emporium Wines & Underdog Café, 233 Xenia Ave,, Artwork by Kelly Lecko
Kelly Lecko brings a Dali-esque twist to many of her paintings, and Lecko's work has a sharpness that is both impactful and invigorating. Stop by the Emporium during the October Art Stroll in Yellow Springs and enjoy wine tasting accompanied by the music of Noodle Factory.
Sunrise Cafe, 259 Xenia Ave., Karen Santilli Photography
"Finally Home" is just one of many great photographs being featured by Karen Santilli. With a strong sensitivity to the emotions exerted by still objects, Santilli's work is impactful! Sunrise Cafe offers a variety of delicious dishes and signature drinks to satisfy the palate. An ideal place to end your evening!
Antioch College, Herndon Gallery, South Hall, 795 Livermore St., If Becoming This
If Becoming This presents a collection of photographs and video by artist Sheilah Wilson, who describes herself as a collector of memories and stories. Influenced by the spiritualist movement of the late 19th and early 20th centuries, she is looking to make the unseen seen, the invisible visible, by using herself as a "memory translation machine."
Visit http://www.facebook.com/YellowSpringsArtsCouncil for more details.