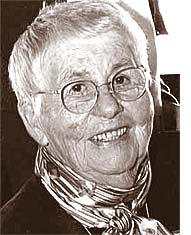 Barbara Moore Vincent died Sept. 24 in her childhood home in Richmond, Calif. She was 96.
Barbara was a former Richmond city planner and environmental activist who helped start the regional advocacy group Save the Bay. Her tireless work for public access is credited with helping save miles of shoreline from being overrun by industry. She and her husband John "Jay" Vincent, who died in 2005, were so influential in their quest to preserve open space, that a six-acre shoreline park in Marina Bay is named in their honor.
Born in 1916, Barbara graduated from Richmond High School and earned a bachelor's degree in economics from UC Berkeley in 1937. Her activism began during World War II when a sudden influx of shipyard workers turned the once bucolic countryside in Richmond into a booming city. She was a leader of the local parent-teacher association and worked diligently to improve facilities and acquire desks and other supplies as part of an effort to solve chronic overcrowding in the schools. She also pushed for the development of the small corner park for children known as "Penny Parks."
In 1948, Barbara and several friends started the Richmond chapter of the League of Women Voters, a group that urged industry executives to relinquish land for parks and open space.
Barbara and her husband were avid sailors. As members of the Richmond Yacht Club, they couldn't help but notice that World War II had transformed the marshlands and inlets along the Richmond shoreline into polluted industrial sites festooned with "No Trespassing" signs.
In the 1950s, only 64 feet of Richmond's 33-mile coastline were accessible to the public. The couple set out to change that, pushing through initiatives to preserve open space, open up public access, build trails and protect the ecology of the bay.
Barbara and her husband were instrumental in the establishment of the shoreline trail and a variety of parks, including Point Isabel, Miller-Knox, Point Molate, East Brother Lighthouse, Point Pinole and San Pablo Reservoir.
She was a member of the Richmond Planning Commission from 1957 to 1969, becoming the first female chairwoman in 1963. She helped draft the city's first master plan. She got involved in the Save San Francisco Bay Association shortly after it was founded and served on the board from 1963 until 1991. The organization, which later became Save the Bay, was the first organization devoted exclusively to protecting San Francisco Bay and one of the first modern grassroots environmental movements in the country.
Barbara, who earned a law degree from Hastings College of the Law when she was 50, was also involved in the creation of the Bay Conservation and Development Commission.
The Barbara and Jay Vincent Park was established in 1997 in Richmond's Marina Bay marina.
Barbara is survived by her sons Stephen Vincent of San Francisco, Michael Vincent of Fairfield, and Antioch College alumnus David Vincent of Richmond, as well as numerous grandchildren and great-grandchildren.