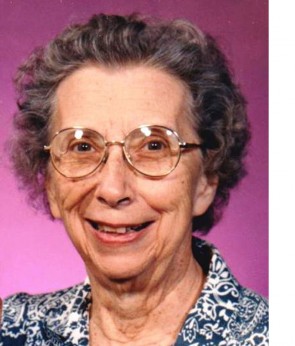 Barbra Jean Donnelly died of a heart attack on Oct. 24 in her home in Louisville, Ky. Her life was celebrated last Saturday by family, friends and the Rev. Dawn Dooley in a memorial service at the First Unitarian Church of Louisville, where Barbra had served as a member for nearly 70 years.
Born Dec. 4, 1918 in Terre Haute, Ind., Barbra Jean was the only child of Mabel and Charles "Buzz" Voelker. As Rev. Cooley noted, "Both sides of her family were Railroad, the Voelker side known throughout town as troublemakers; thus, a tendency to rebelliousness was part of Barb as well. With a quick mind, a voice that carried, and a natural curiosity about how things worked, she was not someone you easily forgot. Particularly if you were, say, her college physics professor — who predicted she would fail because she knitted during class, but then earned the highest grade. And she always made her opinions known. You always knew just where you stood with Barb."
Enrolled in third grade upon the opening of the Indiana State Laboratory School, she graduated its high school in 1936 and entered Indiana State Teachers College, receiving a bachelor of arts degree in mathematics in 1940. Eager to pursue an advanced degree in engineering, she applied to the Rose Polytechnic Institute and encountered gender discrimination, not for the last time in her life. Rose Poly did not accept women.
During college, she kept in correspondence with and became confidante of one of her friends from high school years. When Raymond Donnelly was two-timed by his fiancée, Barb was there to console him. As an Army Air Corps cadet pilot, he was not permitted to marry, but when transferred to navigators school, they seized the opportunity and quickly married in August 1941. Ray was sent to Washington, D.C,. where Barb tried to get a radio communications job with the military, but they weren't hiring women. In 1942, they moved to Louisville for Ray's work at the Naval Ordnance Plant.
Rev. Cooley also remarked, "Barbra lived in an era when many brilliant women were unable to create the lives they dreamed of, so she had done what society had expected her to do — she had gotten married. Not that she and Ray didn't love each other — they surely did, as the love letters that daughter Pat recently found, attest. Full of endearments, the letters show a side of the couple that surprised even their children. Barbara's potential went unfulfilled in a society that kept telling her 'no.' Perhaps if she had grown up in a less conservative town, or if her father had lived to encourage her rebelliousness, she would have fought against societal strictures more. As it was, she fulfilled roles expected of her — but did it in her own, unique way. By the time the Army was employing women, it was too late, because her first child had been born."
Richard, Sarah and Pat followed Linda's birth over the next 11 years. During those first years in Lousiville, Barb's continuing inclination to question and to voice her strong opinions led her and Ray to join the First Unitarian Church, which became central to the family's life.
Always involved in her children's schools, she advocated for advanced curricula for gifted students in the school system. She and Ray were set upon a good liberal arts college education for each of their children. As Linda approached college age and Pat entered first grade, Barb became a substitute teacher to help fund tuitions. She was popular with students who found her substituting in all their classes, amazed she could actually teach every subject: not only math, Latin and science, but English, geography and history as well. One student wrote in tribute, "She was everyone's favorite. She treated us bumptious brats as if we were people worthy of consideration, talking to us as if we were at least 'potential' adults, and we responded to her in that way."
Barb always filled her life with volunteer service, on church committees, with Reach for Recovery as a breast cancer survivor, and as treasurer of the local water board. In their retirement years she and Ray traveled the world over, in Haiti with the Unitarian-Universalist Service Committee and later with Elder Hostel in Asia, Australia, the Mediterranean, Micronesia and South America. Upon Ray's death in 2004, Barb moved to a senior apartment complex, where she remained active as liaison to the Old Louisville Historical District.
Rev. Cooley's final words were, "Barbra will be remembered for her problem-solving ability, for always speaking her mind, for being a voracious reader, for her voice, which would carry anywhere, and her ability to talk to anyone. She was a woman that, in many ways, was ahead of her time. She followed the path into which society channeled her, but she grated against it. She found outlets to have her own way, to make her self known. The best tribute we can pay now is to emulate her passion, her curiosity and her gregariousness, and to embrace the lives that are given us."
Barb is survived by her children, son-in-law, and grandchildren: Linda Donnelly of Spring Green, Wis.; Richard Donnelly and his daughter, Lara, of Yellow Springs; Sarah Donnelly and her daughter, Ariadne Donnelly–Venus of Chico, Calif. and Drs. Patricia Donnelly and Martin Raff of Louisville and their sons, Jason, Evan and Joshua.