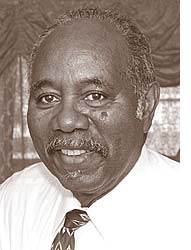 John Sidney Davis of Yellow Springs died on Monday, Oct. 15, at Friends Care Community. He was 75.
John was born in Meadowview, Va. to William and Pearl Fitzsimmons Davis and lived in Ohio for most of his adult life. Mr. Davis was a member of St. John Missionary Baptist Church in Springfield, where he directed the senior choir and served as superintendent of Sunday school.
Although Mr. Davis majored in mechanical engineering at North Carolina A and T University, he never worked in that field because when he joined the United States Air Force he specialized in computer programming. Mr. Davis spent 37 years as a computer programmer at Wright-Patterson Air Force Base and retired as a supervisory computer programmer. He was the recipient of numerous awards.
John enjoyed his vegetable garden and his flower garden and, when not in either garden, he could be found repairing or refurbishing household goods. When his sons were small, he was a Perry League t-ball coach, a little league football coach and a soccer coach. He also worked in the Yellow Springs Boy Scout program.
John leaves to cherish his memory his wife Julia of 46 years; daughter Jennifer; sons John S. Davis II and Jeffrey Craig Davis; grandson John; sisters Sarah Jenkins, Marcella Patillo, Lillian Riddick, Vivian Williams; brothers-in-law, sisters-in-law, cousins, nieces, nephews and a host of friends.
Funeral services were held at St. John Missionary Baptist Church on Oct. 23. Interment was at Woodland Cemetery in Dayton. For those who would like to do so, the family requests that donations be sent in John's name to the Miami Valley Alzheimer's Association (www.alz.org).