Over the holidays, we travelled to my hometown. While we were visiting the homestead, my mother's oven started acting funny. My stepfather pronounced it on its last legs and, before he could change his mind, Mom and I logged into Consumer Reports to research its replacement. We browsed through the Best Buys. The three of us came to a consensus surprisingly fast. Then we spent an inordinate amount of time ordering the oven. Did I mention this happened on Black Friday? Well, you can imagine, but at least we got an excellent deal.
For the new oven, my mother had three requirements: self cleaning, ceramic stovetop, and black. The color and the ceramic stovetop were a marked departure from her old oven. Coil burners, analog clock and timer, it looked like it had survived three decades at least. Its replacement necessitated another purchase: a set of pans to replace the cast iron we also had been using for many decades.
Normally, cast iron is excellent for stovetop cooking, but the heavy cumbersome metal and the ceramic surface are not a good match. The match is better when the pan's bottom is flat, but unfortunately that is not the case with the pans my mother owns. Besides their great weight and uneven bottom, the cast iron is almost too good at taking heat from the ceramic burners, and that intensity may cause the surface or pan to crack. Torn between taking a risk and buying new, the decision was made easily enough when she found a lighter set of pans during the Christmas sales. The heirloom cast iron gets passed on to me and my gas stove, and I'm sure that will be a story in itself when I take possession.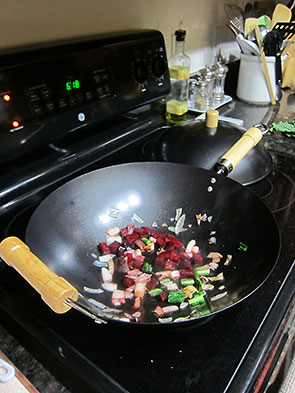 The thing is I haven't gotten a chance to cook on Mom and David's new stovetop yet. Their replacement oven arrived the Wednesday after we returned to Yellow Springs, and we don't expect to be back to New York before spring.
This week, however, I got my next best chance. While visiting DC, I cooked dinner for a good friend. Her stove had a ceramic top also. While I rummaged for pots, she pointed out her wok and a bottle of sesame oil. I took the hint directly.
Her wok had two wooden handles and a flat bottom. The wok's flat bottom and light metal made it a perfect fit for the ceramic stovetop. I liked the double handle for tossing the wok's contents. I would caution however not to toss too close or vigorously above the stove surface. Not that I damaged anything…but luckily I learned that lesson quickly and after only one slip.
I made a stir fry from vegetables that I foraged from the neighborhood organic grocer. As I cooked, the stir fry became a beautiful bouquet of white, red, and green. Stating a regret that I did not pick up ginger, my host presented me with a jar of minced ginger. I added a mere half teaspoon to the two serving stir fry, and it made a good stir fry perfect.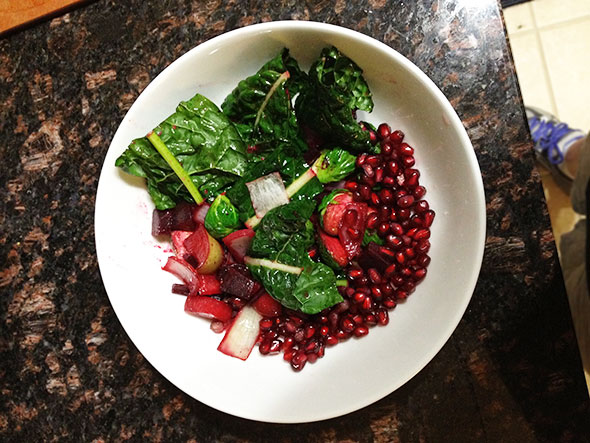 To add a cool crisp texture to the stir fry, I sliced up a pear and hollowed a pomegranate to toss raw with the cooked vegetables. I had already scored the pomegranate and was giving it a twist to separate the sphere in two when my friend returned home from work. Here, she offered her mother's trick from removing pomegranate's seeds from its pith. Simply submerge a separated halve in water and dislodge the seeds by turning the the halve inside out. The water controls the pomegranate juice from flying and—what's more—the pith floats, the seeds sink! Skim off the pith and strain the seeds. Voilà!
Beet and Kale Stir Fry

Raw ingredients
2 crisp pears, sliced
seeds from pomegranate

Cooked ingredients
1-2 Tbsp sesame oil
1 white onion, chopped
2 large tomatillos, chopped
1 dozen brussel sprouts, halved
2 red beets, chopped
beet greens and beet stalks, chopped
6 leaves of dinosaur kale
salt and pepper to taste
1 tsp minced ginger

Prepare the plates with the pear and pomegranate garnishes while heating a covered wok on the stove at medium to medium high heat. Remove the wok lid and toss chopped onion with salt. When the onion starts turning clear, add the tomatillos. Next toss in the firmest vegetables—the brussel sprouts, beet stalks, the beets, and any kale stalks—one at a time letting them soften for a minute before proceeding. Add pepper and the ginger, toss again, then, finally, top the stir fry with the greens and cover for a minute of two to let the greens steam. Give a final toss and serve on the dressed plates of raw fruit.

Serves 4.
I have to say I like the ceramic stovetop. Though it would mean giving up my cast iron, the surface is very effective at delivering heat evenly to the cooking pan, and that makes a world of difference in terms of control and consistency. I think my mom will be very happy with her new stove, and, for her next Christmas present, she just might be getting a flat bottom wok.
Sometimes travel is an exploration in art or history, and sometimes it is catching up with friends and sharing old and new experiences. Either way, the journey proves a wonderful adventure.