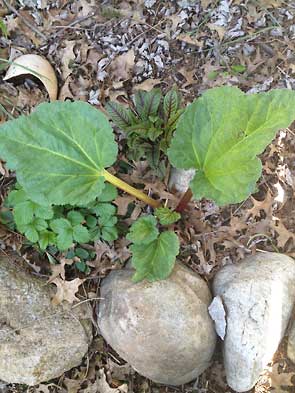 The spring garden is filling in with its perennials. Jerusalem artichoke, wild ginger, and geranium have emerged this week while asparagus and parsley still make me wait. I'm harvesting the broccoli-like buds of my collard greens, a hardy biennial which just won't quit, and the similarly resilient salad greens of violet, sorrel, and dandelion are ready for picking.
I love perennial edibles and an early favorite broke though a couple of weeks ago. Three rhubarb plants are growing robustly. At first, their leaves were tightly folded and close to the ground merely hinting at their glory. Now, great leaves splay atop the tall, greatly priced stalks.
There was a time that rhubarb was highly priced indeed. According to the book The Silk Road: Two Thousand Years in the Heart of Asia, a Samarkand ambassador wrote of the treasures of China listing silk, satins, musk, rubies, diamonds, pearls, and—yes—rhubarb. The vegetable was prized for its digestive benefits as well as its fruit-like sweetness. I like to throw a stalk into my morning smoothies for these very reasons. Knowing its revered history, I feel fortunate that a friend has supplied me with her volunteers for two years. I have five plants going on my property and welcome more volunteers. The plants grow in a variety of settings but do best in well drained soils and sun. Mine enjoy life in the shade of pine trees but are still reasonably productive.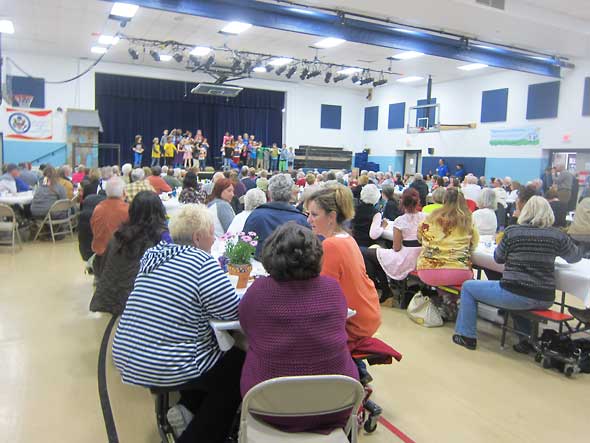 When Mills Lawn hosted its annual Senior Tea, my daughter's class was asked to bring a snack for their guests. We decided on something with our rhubarb…not too sweet and even a bit of twang. We played a riff off a family favorite, rhubarb crumble, and fit it to individual servings. Parfaits seemed perfect fare for an afternoon tea and, in about an hour, we made a double batch for 20 servings. Please remember though, if your children are like mine, you'll need more fruit so enough make it into the parfait cups.
Rhubarb Parfait

1 lb rhubarb, halved and cubed
1/3 cup maple syrup
1/2 tsp orange rind, zested

1/2 pint whole raspberries
1 pint strawberries, chopped
Tbsp of mint leaves, whole or chopped (optional)
1.5 pint plain greek yogurt

Heat oven to 375 degrees Fahrenheit. Mix the chopped rhubarb, maple syrup and orange rind together in a glass baking pan. Bake for 40 minutes until the rhubarb is tender.

While the rhubarb is baking, prepare the fruit saving the green tops of the strawberries for garnish. Mix together the chopped mint leaves and strawberries and divide in half. In clear cups, put a layer of fruit by dividing half of the strawberry mixture and the raspberries among the 10 cups. Whip the greek yogurt to creaminess and, in each cup, cover the first layer of fruit with a heaping tablespoon of yogurt.

The third layer will be the rhubarb sauce. To make a chunky sauce, stir the tender rhubarb with a wooden spoon. For a smoother sauce, blend for 10-20 seconds. Let the sauce cool and taste the sauce before adding to the parfait. Add a bit of syrup (or grape juice) to tame its tartness. Reduce the sauce a little longer in the warm oven or over the stove top if you use grape juice to get it back to a custard consistancy.

Next, layer on 1 to 1.5 tablespoons of rhubarb sauce over the yogurt. Cover with the remaining fruit and a tablespoon of yogurt. Top the parfait with a mint leaf or, like I did, with the green leafed top of a strawberry. Serve immediately.

Serves 10.
With the rhubarb, we matched another seasonal favorite: Grade B maple syrup from Flying Mouse Farms. Even with this sweetener, the dish is on the tart side. I rather like tart myself but was anxious hoping the tea's guest would too.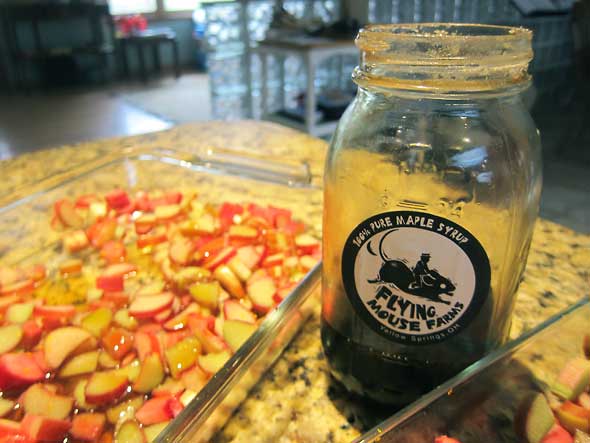 I remained nervous until I got a recipe request at the tea. So here you go, Nan, I hope you will find this recipe a treasure.