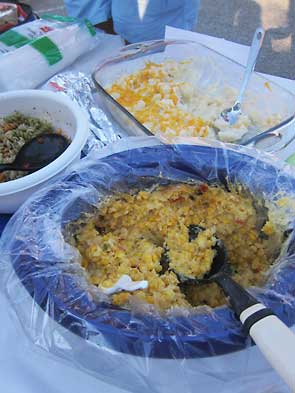 Potluck brings out eco-maniacs
Eco-friendly claims escalated at this year's competitive community potluck as villagers battled for the coveted "most sustainable" award.
Using locally-grown, GMO-free, grass-fed ingredients was "so 2009" in the words of one contestant, Betty Superior, whose Radish Cassoulet veggies were grown with a mixture of "humanure and song" from heirloom seeds her ancestors brought over on the Mayflower.
But judges expected more.
"If you can't trace your seeds to the Fertile Crescent, then don't bother calling them heirloom," said Judge Simon Pure.
Finalist Minnie Dogood told judges her gluten-free Health Cakes with flax and psyllium husks would "make their colon's dance" in addition to saving the planet.
"Not only did I grow all the food in my garden, the dish's sorghum grains were milled at home using a bicycle-powered device rode by an at-risk obese teen," she claimed.
But Judge Johnny Righteous scoffed at what he called her "agri-imperialism," saying he preferred dishes that only used self-harvesting fruits, nuts and seeds that have fallen to the ground in their own time.
Judge Righteous also docked a Paleo Pot Pie (of pine bark and possum) for its inauthenticity — "it should've been braised in mammoth broth," he said — and a Freegan Stew sourced entirely from the dumpsters behind Tom's Market and the Sunrise Cafe, since it was served in Styrofoam (a product of the "petro-devil," he said).
The judge, however, praised the sustainability prize winner Max Maneater, whose Soylent Green Bean Casserole came with claims that it could cure global overpopulation.
In the vegan category, the top award was given to Alicia Bean, an expert in "naught cuisine," who served a three-course meal made entirely of soy: faux gras and caviarn't, phony rigatoni with a slice of sham ham and, for desert, tofunnel cake and a cup of not chocolate.
Judge Pure called the sham ham "a revelation — the best fake meat I've had since 'I-Can't-Believe-It's-Not-Squab.' "
An anonymous contribution — a tub of extra crispy Kentucky Fried Chicken — drew considerable criticism, but was the only potluck dish to be completely eaten by night's end.