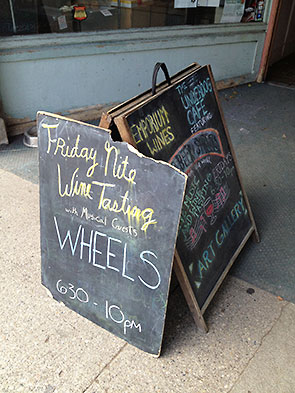 Kicking off the Memorial Day weekend, our plan was simple…an evening of carnival rides at Young's Dairy, a quick meal of hot dogs in town, and live music at the Emporium.
Our friends—the five fine musicians of the band Wheels—were playing Friday night. We saw the announcement first on Facebook, and then Friday morning a chalkboard called out from the Emporium's main entrance to remind us of that promise we made to ourselves.
We are big fans of Wheels and, in this town, we were not alone…not nearly. Fortunately, the Emporium had a plan too and a good one. They removed all the tables from the Underdog Cafe so we'd have more standing room. Still we expected a tight fit. Parking was indeed difficult to find downtown, but Kings Yard provided. We chowed on hot dogs and soft shell crab before turning down the street to the music. Not quite everyone made it downtown on that chilly evening, but the crowd was thick and friendly.
Wheels recently released their third album. Self titled Wheels, the album is a collection of songs that they wrote and have been performing live for well over a year. These songs are beautifully intricate, and—in performance—the band members mine the music for metaphor and allusion keeping us as much guessing as entertained.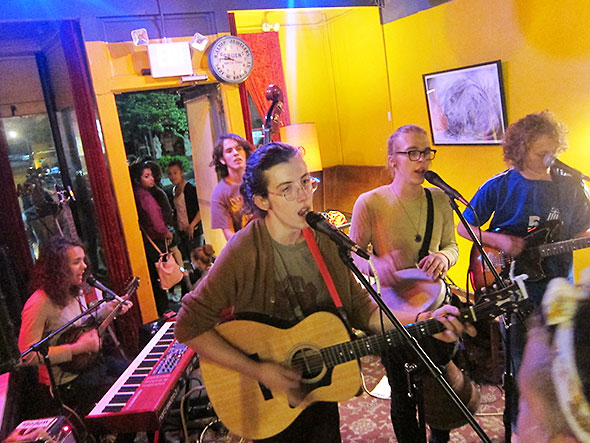 There was a special energy to the crowd that I hadn't anticipated, one that embraced the weekend as release. The end of school is a mere week away, after all. Summer is so tantalizingly close you could see it in people's faces…young and old alike.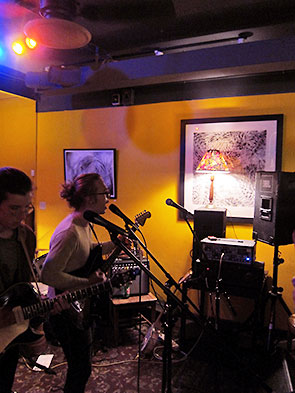 At one point, a golf cart full of giddy giggles buzzed past us, and my husband and I did a double take at the crew on board. "Wasn't that…?" "Yes, I think it was…" a compliment of elementary school teachers—comrades in arms—who have earned their celebratory night out, God bless them. Inside the crowd was younger, more intense, and packed shoulder to shoulder as they danced in tune with the band.
The walls of the Emporium, 233 Xenia Ave, danced as well. The paintings of local artist Jenny Haack grace the Underdog Cafe in an art show that will continue through 1 June 2013. Entitled "Spring Forward, Fall Back", her series pulses in black and white calling forth many elements of nature.
I met up with Jenny Haack herself at the Saturday Farmers Market hosted at the Corner Cone, 101 S Walnut St. She was working on a chalkboard highlighting the day's featured offering: beautiful, low lying Japanese maple plants. One of these graceful trees stands among my front yard landscaping. Drought tolerant and hardy, it's a popular plant in this area, and Jenny joked that she was in danger of selling out before the sign was finished.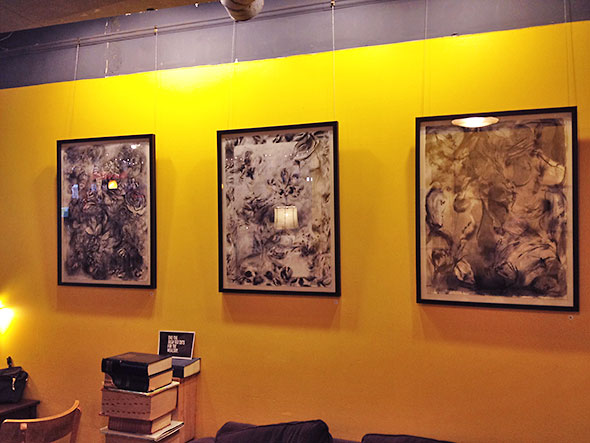 It was wonderful to catch Jenny among her muses…the plants and trees she farms and tends. I look at her paintings now and think back to early March this year when the gray fields of late winter almost led me to despair at spring ever returning. Though the color palette in the art show suggests the tones of winter, the energy is that of spring. Motion, transition, the embryonic bustle of emergent life, her work captures undeniable sources of hope and the underlying emotions that trouble and sustain us.
There is a real blessing to living in a town brimming with so much talent. Our hearts cry out against a harsh landscape but, here, it's no hollow echo that comes back.
Instead, a knowing, thoughtful response hums in sustained chorus from those who don't just understand but—like winter to spring—recast that big feeling and make life beautiful again.