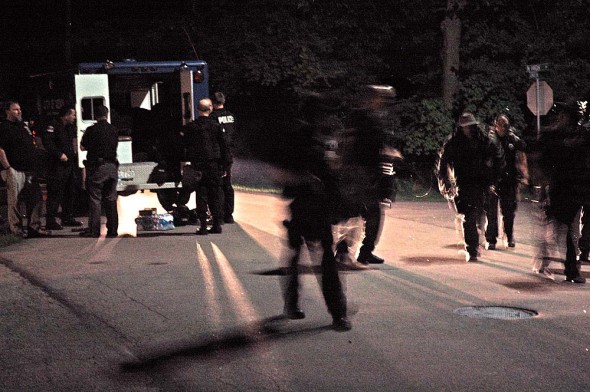 Yellow Springs police shootout ends in villager's death
A Yellow Springs man was found dead in his North High Street home following a police shoot-out that began around 10:45 p.m.last night, Tuesday, July 30, and ended a little after 5 a.m. this morning. About 40 police and law enforcement cars were on the scene most of the night., along with emergency and SWAT vehicles.
"We train for the worst but hope for the best. No one wants a fatality," Greene County Sheriff Gene Fischer said when the stand-off was over.
The Sheriff's Department will launch an investigation into the stand-off, which Fischer described as "a very dangerous situation. Dangerous for my deputies and dangerous for the neighbors."
The department will not at this time release the name of the deceased man. However, the stand-off began when Yellow Springs police were called to the home of Paul Schenck due to a domestic disturbance between Schenck and his son. The officer who responded met with gunfire, and called for back-up, at which time police and sheriff departments from both Greene and Clark Counties responded. The first sheriff deputies who responded also took gunfire, Fischer said.
The son of the shooter sustained injuries and was transported away from the home by the Miami Township Fire Rescue Squad before 2 a.m.
The sounds of gunfire were heard in the neighborhood until about 2:20 a.m., when the last shots were fired. Before that, police fired several rounds and the local man fired what Sheriff Fischer estimated were "dozens" of shots. The investigation will determine if the villager died from a self-inflicted wound or from police fire, Fischer said.
A trained hostage negotiator, Sheriff Fischer said he attempted to negotiate with the shooter.
"We tried to open up a line of communication by phone but were unsuccessful," he said.
No more shots were fired after about 2:20 a.m. The Sheriff's department sought a warrant from a Greene County judge and were given one at about 4 a.m. A helicopter was brought in at that time to perform surveillance on the house and a SWAT team robot was sent to make entry at the front door. The robot gained entry and the deceased was found.
See the Aug. 1 Yellow Springs News for a more detailed story.