BLOG-Passing Plates On and Around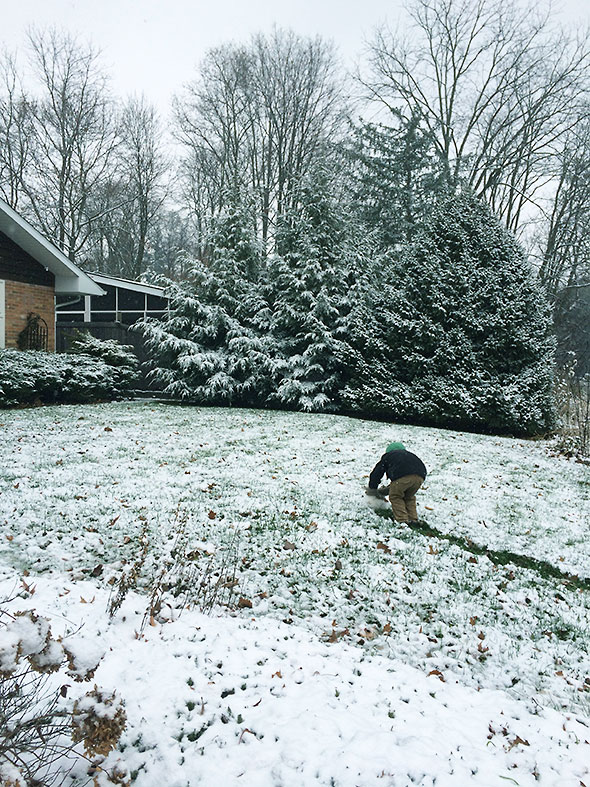 When my son got off the school bus on Tuesday, he made a special request. Taking in the falling snow, he looked up at me and asked, "Make a snowman please?" in a voice as hopeful as it was uncertain. I looked around with some uncertainty myself. Patches of green grass still showed through the accumulated snow, and I knew we had to keep our ambitions modest.
I reached down with an ungloved hand to test the white flakes weighting down our Juniper boughs and was rewarded as the snow compressed with an audible crunch. I smiled at our boy and made him a deal, "Let me get my gloves, and we'll make us a snowman."
Wool hat and weather-proof gloves on, I returned to the Juniper bushes to start. The air was cooler than the ground, and the snow on the low lying bushes proved thicker than the dusting on the grass. I packed a ball six inches in diameter and passed it to my son. "Your turn!" He positioned himself on the west side of the lawn, set his snow packed treasure down on the grass, and began rolling it up the slope in a gentle curve angling first toward the house and then arching towards the burnt-out garden.
I fashioned a smaller ball and met him there at the garden. With admirable confidence and success, he took the second ball and plopped it onto the base. As I stood back and watched him work, he reached around him to collect additional snow packing it where the two balls joined. Two weeks earlier, we had made a snowman under similar circumstances, the main difference being then he followed my lead and now he clearly took over the initiative.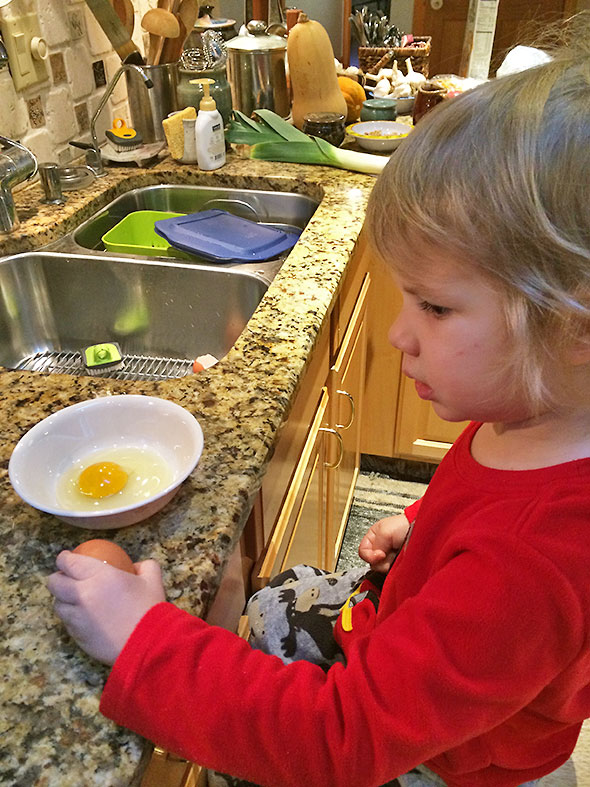 "Sticks, where're sticks?" I looked about the garden and found the previous snowman's arms right where they had fallen to the ground. I shook the snow off them and passed them to a pleased boy. I turned my back to work on a third round for the head. When I turned back, he had impaled the snowman's truck on opposite sides with the arms and had plucked a tomatillo pod from the garden to use for a nose. My eyebrows raised slightly but, game, I set the head in place and poked a hole for him to drop the nose in. "Eyes!" he commanded and directed me to a dangling vine. Rejecting my first choices, he selected a pod with a blackened end for the eye. I followed his lead combing the garden for a matching pod as he struggled to set the eye into the snowman's face with his owl-gloved hands.
My son's mastery of a task after seeing it once or twice translates to the kitchen. He is our official egg cracker tapping the shell against the counter until it weakens and prying it apart above a bowl. When he first started out, we had him break each egg into an empty bowl so we could fish out eggshells. Now, he's adept enough to break multiple eggs into a single bowl…one at a time…with a competency that already rivals my own.
I appreciated his help this Wednesday morning. As his father packed up the family for the Thanksgiving holiday, the kids and I worked on our contributions to the holiday dinner table. On a recent trip to Columbus, I sampled a pumpkin pecan bar made by the folks at Katzinger Delicatessen, and we were making our own with the last of our pumpkin puree.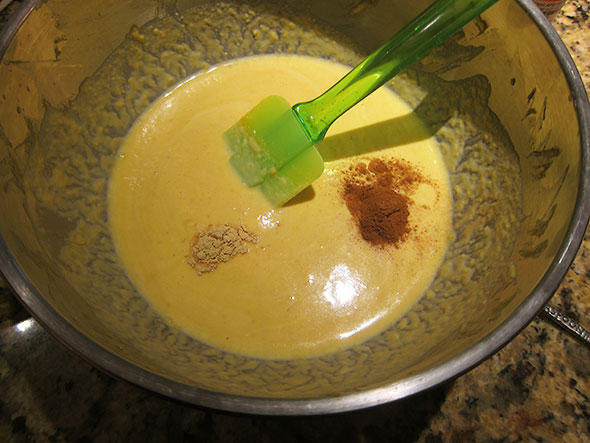 As our boy cracked eggs, my daughter shaved a nutmeg for a dash of spice. I made a crust of crushed pecans, rolled oats, rice flour, brown sugar, salt and butter and topped it with a custard of pumpkin, eggs, sugar, orange peels and spices.
Pumpkin Pecan Bars

Crust:
1/2 cup rice flour
1/2 cup rolled oats
1/2 cup pecans, chopped
1/4 cup brown sugar
1/2 teaspoon ground cinnamon
1/2 cup frozen butter
1 teaspoon vanilla extract

Custard:
1 cup pureed pumpkin
2 large eggs, beaten
1/2 cup cream
1/2 cup light brown sugar, packed
1/2 teaspoon orange zest
1/8 teaspoon fresh ground nutmeg
1/2 teaspoon ground cinnamon
1/4 teaspoon ground ginger

Topping:
1/2 cup pecans, crushed

Preheat the oven to 350 degrees. In a food processor or in a pestle and mortar, combine the dry ingredients and pulse until the pecan takes on a coarse flour consistency. Add the cold butter in pads and pulse until the butter breaks apart into tiny pebbles that mix well into the flour. Pulse in the vanilla.

Turn the dust mixture onto a cake pan and press into bottom. Cook the crust in the preheated oven for 15 minutes. Take out and let cool.

Combine the custard ingredients adjusting the spices to taste. I add more ginger because I like its zing. Pour the custard over the crust, sprinkle on a little more brown sugar for show and added texture, and cook in a 350 degree oven for 40 minutes. Let cool and top with crushed pecan.

Makes 12 bars.
I appreciate the kids' readiness to help out with the cooking especially for these special events with the extended family. I value not only their contribution but their attention capturing the details of each task and following the arc of the preparation.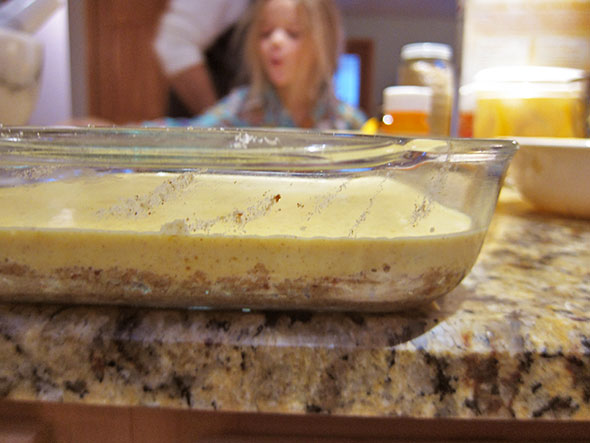 When we gathered with family for Thanksgiving dinner, I placed the pumpkin pecan bars on the dessert table reuniting the dish with its near cousins: pumpkin pie and pecan pie.
Covered in a cloth of rich green, the dinner table held a lush assortment of harvest fruits: cranberry sauce and mashed potatoes by my sister in law Tami, sweet potato casserole and parsnip fries brought by my mother, and the turkey carved by me.
In addition to the dessert bars, I brought a pumpkin soup with the zesty winter green pak choy from Smaller Footprint Farm. One of my nieces made a cheesy quiche—a perfect confection of crispy crust, creamy center, and golden top of toasted cheese. The quiche recipe, I was pleased to find, came from a fun cookbook that I had given them a couple of years ago.
I found that my nieces also cooked the pies including a pumpkin pie by the nine year old that handily bested my own attempts from the past two weeks.
That my brother's children are able cooks is no surprise. Both their parents cook and garden and engage their kids in both endeavors. The efforts of all made for a splendid, satisfying table.
After dinner, we cleared the plates and replaced them with favorite cookbooks. We compared notes and recipes then shared stories of complications overcome—like getting this year's mashed potatoes mixed with the right proportion of dairy and toasting the marshmallows on top of the sweet potatoes—and unexpected pleasures—like the caramelized parsnip fries. My sister in law Tami sighed at the end of the evening confiding its bitter sweetness. This Thanksgiving was the first in which her own mother had participated as a diner but not contributed to as a cook. "She taught us well," and not just the recipes and techniques but the imaginative art. In every dish made by the household, we savored the influence of past generations, the nearest of those dearly felt, the rest subtle but sure.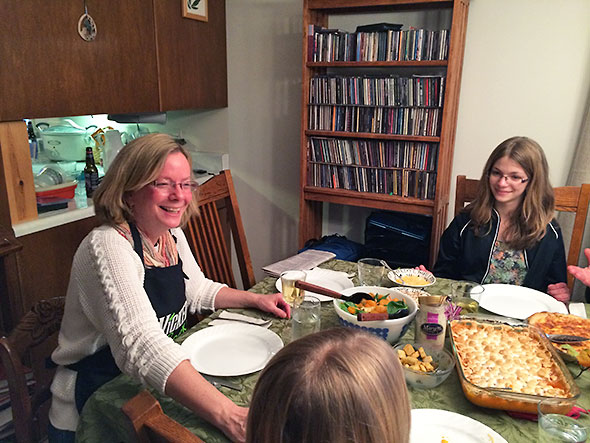 As I sit back and witness Tami's joy in her preteen daughters, I glimpse a slice of my future and perhaps my legacy…all that may manifest in the close-held rituals of my own young children.