Local wood-fired work to open at the Winds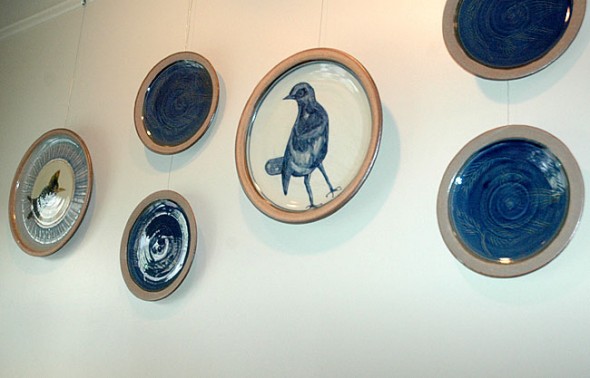 Birds abound in Naysan McIlhargey's most recent platter show at the Winds Cafe, on view now until Dec. 31. The opening for the show, titled "Wax Resist" because of the specific glazing process used, will be held on Sunday, Dec. 1, 6–8 pm.
"When I do a Winds show I like to try and have a theme," said McIlhargey. "This time, I wanted to experiment more with wax resist, try out new colors and experiment with combinations of glazes." For example, some of the pieces feature a combination of white and celadon glazes — something McIlhargey hadn't previously tried.
"With wax resist, you have a base color," he said, "and then you use wax to create depth, and when you put the second glaze over you get the second color. The process lends itself to much more fluid and gestural glaze work, it's not quite as rigid as other ways of doing it."
Many of the platters contain images of birds, including owls, herons and peacocks, while others are more abstract. Large platters and plate sets are both on display. 
The opening will also include award winning chocolate from Madécasse, a Brooklyn-based chocolate company which sources all of its chocolate from Madagascar, and wine pairings which will be available for a nominal fee.