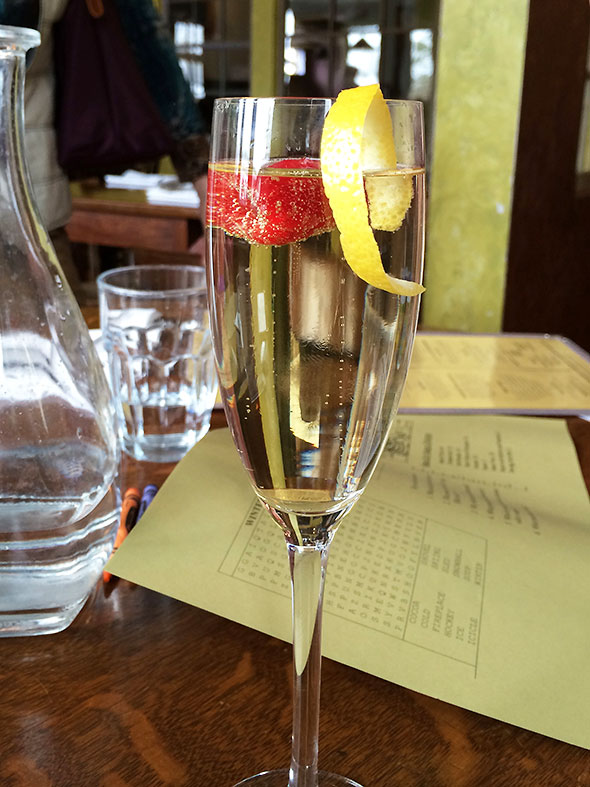 These days, when my birthday falls on a Sunday, I think back to my younger days and the era when the Superbowl played at the end of January. Late January was a fine day to have a birthday; I'd mark my day with a party that featured a high energy crowd and lots of chicken wings and pizza. My team, the New York Giants, had the good grace to win on my actual birthday once. An excellent present to be sure.
When I was 34 years old, however, tragedy struck 9/11/2001. That day, everyone's lives altered and the world reordered…even the Superbowl which now belongs to the month of February. Years after the tragedy, I fought to shake the fear and anxiety that solitary day ignited. Seven years passed, in fact, before I could finally look to the skies with wonder again. My one-year-old daughter…pointing an excited finger to the sky as Jim Hammond flew overhead…shouted her third word "plane!", and her unabashed love of flight healed my soul.
So, it was to her and the joy my family has brought into my life that I raised a glass this past Sunday. We celebrated with brunch at the Winds Cafe, with hot cider, biscuits and jam, and the marvelous Route 66 Breakfast of breaded trout, potatoes, and scrambled eggs. All were a fine substitute for pizza and wings. Later that afternoon, we invited friends—fresh from a sledding expedition on Gaunt Hill—over for hot cocoa and Three Leee Cupcakery cupcakes topped with a luscious strawberry buttercream.
Brunch at the Winds and an afternoon of downhill followed by steaming cups of chocolate were marvelous ways to spend our Sunday, but I still found myself reminiscing. When your birthday falls on a National Event in your youth and suddenly that changes, you can't help but notice. A week's difference is a small shift. Still, to me, the alteration felt like a fiddler falling off the roof and to this day reminds me of the events that altered the tradition.
Casting about for a new annual ritual, I was pleasantly surprised by the advent of Winter Restaurant Week 26 January – 6 February sponsored by the Miami Valley Restaurant Association. I had a technical paper due this past Friday at 5pm and, as a consequence, skipped lunch every single day in order to make sure I put everything I possibly could—my life's work and passion—into 11 pages.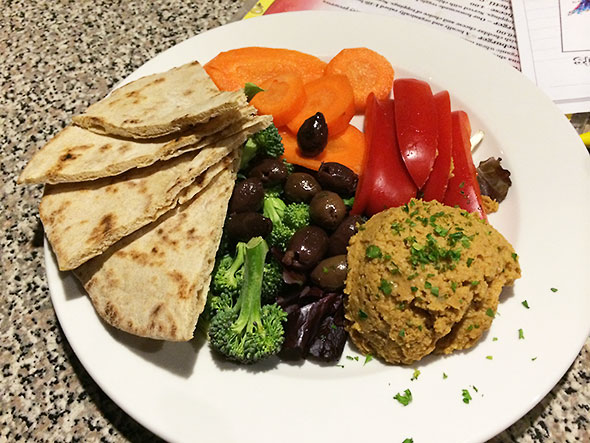 How fortunate for me then that at the end of a long intense day of writing, I could enjoy a stellar three course meal. My son joined me at the Sunrise Cafe where I ordered the Hummus Plate, Scallops with Risotto, and the Apple Strudel. He preferred my creamy kale and squash studded risotto to his own standard Mac and Cheese. I only got a first bite of the crispy strudel before he seized the heavenly "pie" for himself.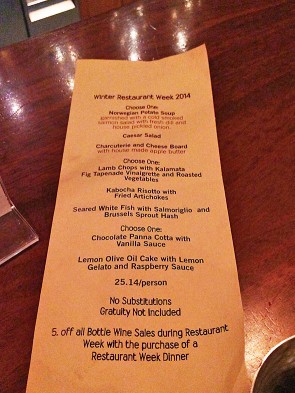 Friday night—my proposal safely submitted to an office in Kettering—I decompressed with a glass of Rosé and the Restaurant Week offerings of the Winds Cafe. Here, I chose the charcuterie plate, Lamb Chops decorated with Tapenade, and a silky Chocolate Panna Cotta.
The meals were exceptional, their experience highly visceral like the bracing air of a winter football game. The scented air from the kitchen carried forward the restorative delights of each evening; the clash of ceramic against metal promising their emergence. Ready to receive, I was more than hungry. A dangerous time for me to eat, almost any food could have overwhelmed in a blitz, but these thoughtfully prepared meals filled the gap, handing off a healing force.
Near the end of Friday's meal, the bartender placed a draw of rich sherry—a Pedro Ximenez from the family owned Bodegas Pedro Romero—which I savored with the tender meat of the main course and over the chocolate panna cotta, a melting dream of a dessert. It felt strangely like destiny whatever had brought me there. It felt like I had scored.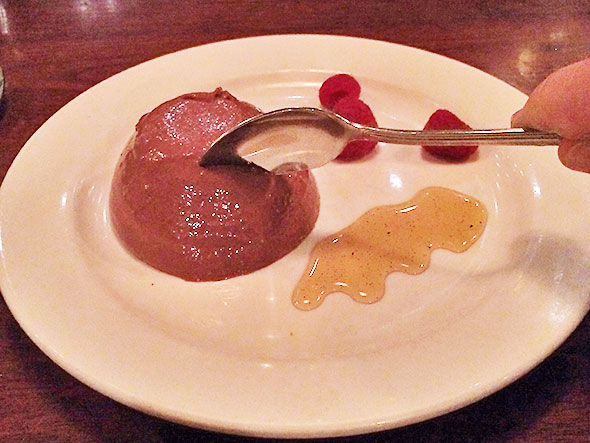 Next year, I can hope for Restaurant Week to begin on my birthday. For me, no matter that spring is still far off and that Valentine Day is still three weeks away. Love is in the air, and I can taste it!