CHARTS: More jobs trends in YS
Click to view all the articles in this series.
In its continuing economy series, the News has reported that with fewer local jobs, residents have been commuting out of town more often and driving farther distances to work over the last decade. In addition, U.S. Census figures show that local residents are also increasingly staying home to make their living, and at rates that exceed state and national averages.
According to the U.S. Census American Community Survey 2008–12, almost 10 percent of working residents work from home (152 people), a rate that is twice the national average and almost three times the Ohio average. That figure doubled over the last decade here. And though some of that increase could be attributed to more telecommuting in the internet age, some 12.3 percent of working residents were self-employed in their own unincorporated businesses between 2008 and 2012, twice the national average. Self-employment in incorporated businesses is also likely to be high here.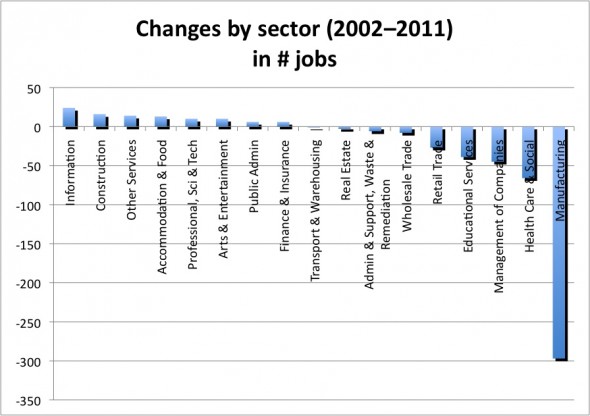 While the village has not been immune from national economic trends, some trends are more pronounced here. For example, the loss of 400 jobs from 2002 to 2011 — 20 percent of all jobs — was higher than average losses in the area, with manufacturing work taking the biggest hit locally. Lower-paying jobs and jobs employing young and middle-aged people declined even faster than total job loss in the last decade.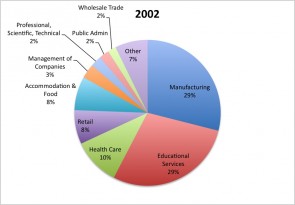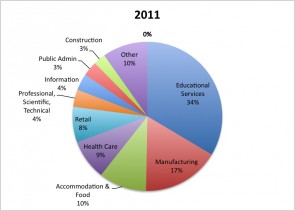 While there are fewer local jobs, the number of higher-paying jobs increased, which is likely why total annual payroll from local companies remained flat over the period. The share of higher-paying local jobs, more than $40,000 per year, rose from about one quarter of the total number of jobs in 2002 to more than 40 percent in 2011. The village added more than 100 jobs paying more than $40,000 per year over that period, while it shed more than 500 paying less than $40,000 per year. The result may be increasing income inequality in the village, which saw its median household income rise to $58,750 in 2012 and poverty rate double over the decade to 15 percent in 2010 — both figures are above state averages.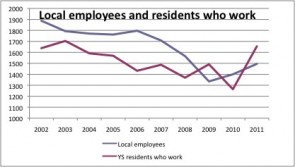 Read the full story in the April 3 edition of the News, and read previous articles from our series "Eye on the Economy here: