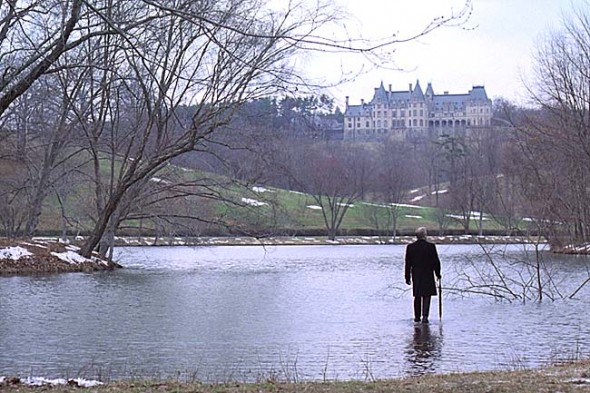 Antioch University Midwest to screen classic political films
Jon Saari doesn't need to rent the movies he's showing in a seminar on modern political film — he already owns most of them. And he's watched them over and over, partly for pleasure and partly for the class on Modern Political Films that he's taught at Antioch University Midwest for the past several years.
Saari has been a film buff for as long as he can remember, beginning when he was age 3 and saw his first movie — "White Heat," with Jimmy Cagny. It's a great movie, he said in a recent interview, and he has spent much of a lifetime seeing and appreciating other great movies, including the ones he'll show in the seminar.
The film series, which is free and open to the public, will present "Being There" this Saturday, May 10, in Room B105 at Midwest, and will continue with six other political classics in the following weeks.
"Each and every one of these films says things that we should see and discuss," Saari said in a recent interview. "I hope people come out to see them."
The film screenings are actually part of an AU Midwest class, which is why they're being shown in a second-floor classroom. But Midwest Chair of Humanities Jim Malarkey thought that villagers might enjoy seeing the films too, along with taking part in the discussions that follow the screenings.
"It occurred to me that movies love company," Malarkey said. "So why not open them up to the community? It will enrich the conversation."
That conversation will be guided by Saari and the knowledge he brings from a lifetime of loving films, Malarkey said.
"He gives people ideas of things to look for and a vocabulary to use when talking about films," Malarkey said, noting that most of the time, people only spend minutes after a movie discussing it, in contrast with the AU event, which will dig more deeply into the films' methods and themes. And villagers get to have the best of all worlds, enjoying the films and discussions but not being required to take tests or write papers.
The films include:
• "Being There," (May 10), directed by Hal Ashby and starring Peter Sellers, Shirley MacLaine and Melvyn Douglas, 1979, in which a wealthy couple "misconstrue the rambling of a simple-minded gardener as political insights the U.S. president needs to consider;
• "Bulworth," (May 17), directed by Warren Beatty and starring Warren Beatty and Halle Berry, 1998, the story of a "burned-out liberal senator from California who arranges for an assassin to kill him" but changes his mind after meeting the woman of his dreams;
• "Wag the Dog," (May 24), directed by Barry Levinson and staring Dustin Hoffman and Robert De Niro, 1999, in which a spin doctor and Hollywood producer concoct a fake war on a stage set to deflect attention from a presidential sex scandal;
• "Election," (June 7), directed by Alexander Payne and starring Matthew Broderick and Reese Witherspoon, 1999, a satire of a high school election which a teacher attempts to make more democratic;
• "The Contender," (June 14), directed by Rod Lurie and starring Joan Allen, Gary Oldman and Jeff Bridges, 2000, in which a senator pulls out all the stops to derail the appointment of a female senator to become the first female vice president;
• "The Lives of Others," (June 21), directed by Rorjan Henckel von Donnersmarrck, starring Ulrich Muhe and Martina Gedeck, 2006, an East German film that looks at the effects of spying on the lives of a playwright and his lover in 1984 East Berlin;
• "Hannah Arendt," (June 28), directed by Margarethe von Trotta, starring Barbara Sukowa and Janet McTeer, 2012, a biopic about the German-Jewish philosopher and political theorist.
Showing these films is timely, Malarkey believes, because many of the themes resonate with this country's current political situation.
"Like a lot of people, I'm deeply concerned about our political systems, both national and international," Malarkey said. "These films raise questions that are ordinarily not raised and that we need to consider."