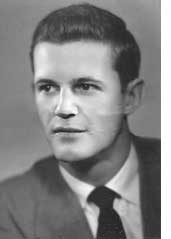 Eugene Philip Diehl was born in Xenia on Oct. 9, 1925, to Anna Funderburg Diehl and Philip Diehl and died on Sunday, Aug. 24, just shy of his 89th birthday.
Growing up in Yellow Springs, Gene worked on his parents' farms and stabled several horses at the one just outside the village on Route 343. He rode "Senator" around town and galloped through the Glen, rewarding the horse with mustard sandwiches and beer, its favorite treats.
Gene graduated from Bryan High School and enrolled at Ohio State University. Those were the war years, however, so he left school to enlist in the Navy. He worked in aviation, surviving a plane crash in which he forced open the door through which the crew escaped safely. After four years of service, Gene returned to Yellow Springs and worked on the flight lines at Wright-Patterson Air Force Base, where he came to know the early astronauts who trained there.
Gene was married to fellow Yellow Springs native and horse lover, Ann Stewart, for 63 years. They went riding on one of their first dates and, throughout their years together, continued to participate in the horse world, attending shows and events throughout the Midwest.
Gene joined the Stewart Insurance Agency as an agent and subsequently purchased the business, changing the name to reflect his ownership. Ann, along with Alma Damaker, worked with him for nearly 30 years before they all retired.
Winters, for many years, were spent enjoying Naples, Fla., and the many friends they made there.
In addition to Ann, Gene is survived by his two children, Leslie (Mike) Scheper and Drew, and grandchildren Jack and Beau Scheper and Emily and Phillip Diehl. He was preceded in death by his brothers, Carl and Kenneth, and his grandson, Scott Scheper.
At Gene's request, he will be cremated and no services will be held.