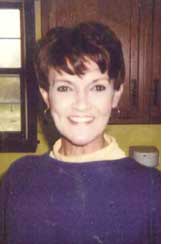 Mary M. "Margie" Check, 66, of Xenia and formerly of Cedarville, passed away unexpectedly on Aug. 5.
Margie was the eldest of five daughters of the late John J. and Livia Check. She graduated from Cedar Cliff High School, class of '66, and attended Central State University. In the 1960s and 1970s, Margie was an outstanding slow-pitch softball player, a lefty at first base. While 17 years old and still in high school, she was selected by Ohio's Championship Team, Bart's Bar, to join the team at the National Tournament in Omaha, Neb. She was MVP of that tournament.
After college, Margie lived in Columbus for several years and worked as a claims adjustor for Blue Cross and Blue Shield. She lived in Clearwater, Fla., for several years, later returning to Ohio, where she was employed at Young Concepts in Yellow Springs.
Margie loved the Cincinnati Reds, Tim Horton's and making people laugh. She also enjoyed working with the Greene County Board of Elections as a poll worker, for which she usually was assigned to Central State University. She volunteered at the Xenia FISH Food Pantry, where her natural kindness and gregariousness was an asset. But most of all she loved her family.
Margie is survived by her loving sisters Rita Check (and Michael Neal), of Yellow Springs/South Charleston; Christina Martin Gabbard (and Stephen Gabbard), of Yellow Springs; Susan Honeyman (and Robert Stewart), of near Xenia; and Theresa Check (and Bobbie Davis), of Oakwood. Margie's half-sister Marianne Loney (and Walter Watkin) of Harrisburg, Penn., also survives her, as do her many dear friends, including Margene Howell and Isabel Schaffer, of Beavercreek; Barbara Clifton Pitstick and Alice Howell, of Springfield; her fellow poll worker Betty Lacey, of Xenia; and hundreds of others whose lives she touched and with whom she shared a good laugh. Margie was well loved and she returned that love wholeheartedly. Heaven gained a shining star when Mary Margaret "Margie" Check passed. She will be missed by many.
Jackson Lytle & Lewis Funeral Home in Yellow Springs handled arrangements, and a Mass of Christian burial was held Aug. 9 at St. Paul Catholic Church in Yellow Springs, with Father Louis Asobi officiating. In lieu of flowers, the family suggests that donations in Margie's memory be made to the Greene County Humane Society. Jackson Lytle & Lewis would like to apologize to the friends and family of Margie for the delay in the submission of this obituary.