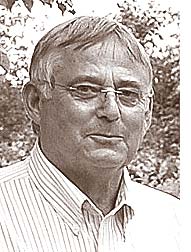 August Michael Knemeyer, 1946–2015, passed away March 31, under the loving care of his wife, Melva.
Mike was the son of Siegfried Knemeyer and Doris Renate Schreck. Born in Bielefeld, Germany, he immigrated to the United States in 1948 along with his six brothers and sisters. Growing up on Grinnell Circle, he often referenced the Glen Helen Nature Preserve as his backyard. Mike graduated from John Bryan High School in 1965, delayed one year by his time spent abroad in Bokel, Germany, at the family farm.
Mike met Melva in 1964, when he started visiting her regularly while she worked as a waitress at the old Dick and Tom's restaurant (Sunrise Café), leaving 50-cent tips and playing her Dean Martin songs on the jukebox. Following their marriage in 1968, Mike worked as a flight instructor at Ohio State University while studying engineering. Later they returned to Yellow Springs, where Mike worked as the manager of Greene County Airport, as a personal pilot, and as a quality assurance engineer at Dayton Machine Tool.
Mike was active in aviation throughout his entire life. He restored his 1946 Aeronca Champion 7AC, which he continued to fly at every opportunity. Mike was a certified flight instructor and had trained many pilots in the area. He maintained active membership in the Flying Angels and Aeronca communities and was airport manager/executive board member at Andy Barnhart Memorial Airport.
Mike's passion was flying, but his pride remained in the strength and love of his family. In addition to his wife Melva, he leaves behind two children, Michael and April; a daughter-in-law Stacey; a son-in-law Christopher; three grandchildren, August, Ethan and Jason; and three of his six siblings, Dorle, Freidel and Heide. His parents and his brothers, Manfred, Sigurd and Jurgen, preceded Mike in death.
A celebration of Mike's life will be held in Yellow Springs on July 18. More details will be provided at a later date. In lieu of flowers, please consider a donation to the OSU Medical Center's Pelotonia (www.pelotonia.org/knemeyer — Rider No: IR0003), where 100 percent of your donation goes directly to cancer research. The family also appreciates donations to the Glen Helen Association in Mike's honor.
"When once you have tasted flight, you will forever walk the earth with your eyes turned upward, for there you have been, and there you will always long to return." —Leonardo da Vinci