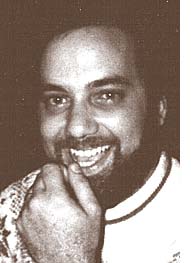 On Monday, April 13, Steven "Steve" John Dorn peacefully passed away after a long battle with cancer at his home in Yellow Springs, surrounded by family and friends — mostly beautiful women, which made him happy.
Steve was born on June 17, 1955, to Jim and Francis Dorn in Trotwood. After graduating from high school, Steve became a nurse's aide and eventually worked at Friends Care Center, where he loved caring for people, and where he met his beloved wife of 30 years, Tina Dorn. The two were married at the center, and it was a formal affair, with residents bringing their poinsettias and joining in the party. He went on to work as a dietary manager and production manager and volunteered for the Red Cross.
His proudest accomplishment was undoubtedly raising his son, Christopher "Chris" John Dorn, born in 1989, and watching him graduate from college. Steve struggled with mental illness, which he overcame to be a loving father to his wonderful son. Whenever Chris needed something explained or faced a challenge, Steve was the one he turned to. He taught his son restraint and patience. If Steve could send a message to the world, it would be to live in the present, don't worry about the past and be grateful for your family.
Steve loved camping, being stubborn, hosting well-known annual tree trimming parties, playing euchre, having a house full of friends and family, watching flowers grow in his wife's garden, science fiction (including "Star Wars" and "Star Trek"), summers with his son and giving his wife a hard time. He would want everyone to know that he was a diehard Steelers fan. He also helped many friends without realizing it and was even an occasional father figure. All agree that Steve's wacky, witty, outspoken sense of humor was his best feature.
Steve is survived by his best friend and loving wife, Tina; sons Chris and Jimmy; sisters Becky Lewis and Debbie Berry; brother Mike Dorn; seven siblings-in-law, including local residents Kathy Crew, Penny Adamson and her partner Emily Seibel; 18 nieces and nephews; five great-nieces and great-nephews; his long-term hospice nurse MJ — a sister from another mother; cats Micah and Jasmine and Barney.
In lieu of flowers, please make a donation to the Kindred at Home Hospice, 7887 Washington Village Drive, Suite 135, Dayton, OH, 45459, or by visiting http://www.kindredathome.com/about-us/donations. A ceremony and gathering of family and friends will be held at St. Paul Catholic Church in Yellow Springs on Saturday, April 25, at 10 a.m.